The Only Thing Missing From This Almanac Is Your Daily Horoscope
Every day, you read the Four Winds report, to get a sense of the current energies. There's just one thing missing — your daily horoscope. Written for you, every day of the week, your Planet Waves daily horoscope is designed to give you the clue you need, that little edge to make your life go smoother.
One well-placed line from an astrologer can make all the difference in your life. We now have two editions of the Four Winds Report — one with, and one without your daily reading. You may be one of the readers who wait for years for me to offer you this — and now you can have it. Horoscope Lover membership gets you direct mailing of each day's reading, plus the weekly reading on Sunday night, and the monthly reading the last Thursday of the month. Sign up at this link.
with love,


Today is Wednesday, Aug. 9, 2017
Hebrew date is 17 Av 5777
Islamic date is 17 Zul-Qi'dah 1438
Mayan Tzolk'in Day is6 Eb'
Mayan Long Count is 13.0.4.12.12
Julian Day is 2457975
Today's Birthdays: John Dryden (1631-1700), Elizabeth Schuyler Hamilton (1757-1854), Evelina Haverfield (1867-1920), Jean Piaget (1896-1980), William Alfred Fowler (1911-1996), David A. Huffman (1925-1999), Daniel Keyes (1927-2014), Dolores Wilson (1928-2010), Abdi Ipekci (1929-1979), Sam Elliott (1944), Linda Keen (1940), Jack DeJohnette (1942), Posy Simmonds (1945), Jean Tirole (1953), Melanie Griffith (1957), Whitney Houston (1963), Gillian Anderson (1968), Audrey Tautou (1976), Anna Kendrick (1985).
"Education, for most people, means trying to lead the child to resemble the typical adult of his society… But for me, education means making creators…You have to make inventors, innovators, not conformists."
— Jean Piaget
Planet Waves FM: The Eclipses, Slutty Sunday and The Doors
Tonight's Planet Waves FM [play episode here] visits the astrology between the eclipses, which includes Mercury stationing retrograde, many aspects involving asteroid goddesses (especially Mercury conjunct Vesta). We visit the Slutty Sunday party at Oasis in midtown Manhattan, and hear from The Doors.
Moon Phase: Moon is in Full phase and enters Disseminating (waning gibbous) phase on Aug. 11 at 5:39 am PDT / 8:39 am EDT (12:38:55 UTC).
Next New Moon is in Leo on Aug. 21 at 11:30 am PDT / 2:30 pm EDT (18:30:06 UTC).
Next Full Moon is in Pisces on Sep. 6 at 12:03 am PDT / 3:03 am EDT (07:02:43 UTC).
Moon Sign: Moon is in Pisces and enters Aries on Aug. 10-11 at 10:22 pm PDT / 2:22 am EDT (05:21:48 UTC).
Sun Degree: 17-18 Leo.
Planetary Stations and Sign Changes
No changes today.
Interesting Selected Aspects | Data by Serennu
— Sun square Echeclus at 9:57 am PDT / 12:57 pm EDT (16:57:34 UTC).
— Venus sextile Vesta at 11:41 am PDT / 2:41 pm EDT (18:41:17 UTC).
— Sun sextile Asbolus at 4:19 pm PDT / 7:19 pm EDT (23:19:30 UTC).
— Venus sextile Pallas at 7:09 pm PDT / 10:09 pm EDT (02:09:03 Aug. 10 UTC).
Subscribe to Planet Waves — sign up here | Visit Our Website at this link
If Your Birthday is Aug. 9
(The Day of Psychological Leverage) | Leo Birthday Reading | All Other Signs
It's not always easy to live honoring the truth and nothing but the truth, though it's always worth it. There can be no compromising your integrity; and you must hold your boundaries in your relationships, whether this applies to money, sex, your spiritual endeavors or any other facet of your life purpose. Others may challenge your integrity, though you will prevail.
Written in the Planets
Does expressing your emotions — indeed, even just feeling them in the first place — often feel like a 'risky' behavior, like you're not sure where the guardrails are? How much do you value 'feeling safe', and how much do you value being emotionally honest and open? It seems there's plenty of physical grounding available, and space is being held, should you feel called to negotiate that point where caring openly could open a door wider than usual. Venus in Cancer is the tip of a 'kite pattern', opposing centaur planet Chariklo in Capricorn while making sextiles to Vesta in Virgo and Pallas in Taurus. Today it looks like the goddesses have your back.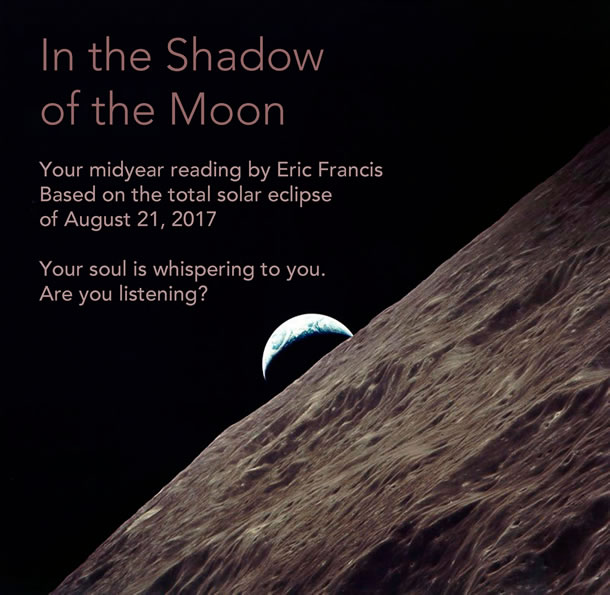 In the Shadow of the Moon, the exciting 2017 Midyear Reading by Eric Francis, has just been published. The video readings for all 12 signs cover the Great American Eclipse of Aug. 21 and well beyond. We'll be increasing the price again very soon, so don't hesitate to
order your copy here
. You can also now choose your
individual signs here
.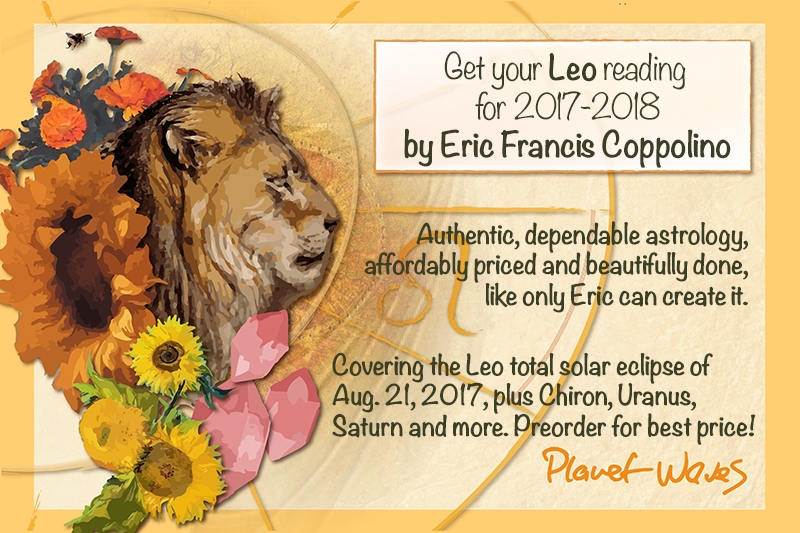 "I have just listened to your Part 1 and Part 2 readings and I am amazed at how accurate it has been. Like you have a telescope watching me shed a skin and transform into a totally changed person in the last 10 years."
— Pauline Jones
If you have a Leo Sun, rising sign or Moon, how are you feeling about your vision for your life, and in what ways are you ready to take action toward it? With a partial lunar eclipse on Monday in your opposite sign Aquarius (your relationship sign), the door has opened to one stage of potential transition. In two weeks, on Aug. 21, a total solar eclipse in Leo signals the second stage of whatever life-shifting process you're engaged with.
The reverberations from these two eclipses will keep rippling out and developing through the next six to twelve months — and Eric's 2017-18 Leo Birthday Reading is designed to guide you through it all.
"The past few years have been very difficult on many levels and it has been the readings I get through you that keep me going. Always, absolutely right on, every one of them."
— Rhonda