The Only Thing Missing From This Almanac Is Your Daily Horoscope
Every day, you read the Four Winds report, to get a sense of the current energies. There's just one thing missing — your daily horoscope. Written for you, every day of the week, your Planet Waves daily horoscope is designed to give you the clue you need, that little edge to make your life go smoother.
One well-placed line from an astrologer can make all the difference in your life. We now have two editions of the Four Winds Report — one with, and one without your daily reading. You may be one of the readers who wait for years for me to offer you this — and now you can have it. Horoscope Lover membership gets you direct mailing of each day's reading, plus the weekly reading on Sunday night, and the monthly reading the last Thursday of the month. Sign up at this link.
with love,


Today is Sunday, Aug. 6, 2017
Hebrew date is 14 Av 5777
Islamic date is 14 Zul-Qi'dah 1438
Mayan Tzolk'in Day is 3 Muluk
Mayan Long Count is 13.0.4.12.9
Julian Day is 2457972
Today's Birthdays: Barbara Strozzi (1619-1677), Johann Bernoulli (1667-1748), Alfred, Lord Tennyson (1809-1892), Thomas Alexander Browne (1826-1915), Charles Fort (1874-1932), Leo Carrillo (1881-1961), Alexander Fleming (1881-1955), Edward Ballantine (1886-1971), John Middleton Murry (1889-1957), Hoot Gibson (1892-1962), Lucille Ball (1911-1989), Richard C. Miller (1912-2010), Barbara Cooney (1917-2000), Ella Raines (1920-1988), Andy Warhol (1928-1987), Vinnie Vincent (1952), Rajendra Singh (1959), Michelle Yeoh (1962), Elliot Smith (1969-2003), M. Night Shyamalan (1970), Melissa George (1976).
"I have a theory about the assists we get in life. Only rarely can we repay those people who helped us, but we can pass that help along to others."
— Lucille Ball
Len Wallick | The Better to See
With today's offering Len Wallick proposes that you approach the eclipses this month with the idea of putting them to use as a sort of telescope. Astronomers use a telescope to see both what's coming and what is long past. Beginning with the lunar eclipse on Monday, and through to the total solar eclipse on Aug. 21, you might be able to do something of the same.
Moon Phase: Moon is in Waxing Gibbous phase and enters Full phase on Aug. 7 at 11:10 am PDT / 2:10 pm EDT (18:10:33 UTC).
Next Full Moon is in Aquarius on Aug. 7 at 11:10 am PDT / 2:10 pm EDT (18:10:33 UTC).
Next New Moon is in Leo on Aug. 21 at 11:30 am PDT / 2:30 pm EDT (18:30:06 UTC).
Moon Sign: Moon is in Capricorn and enters Aquarius today at 5:15 am PDT / 8:15 am EDT (12:15:25 UTC).
Sun Degree: 14-15 Leo.
Planetary Stations and Sign Changes
Moon enters Aquarius at 5:15 am PDT / 8:15 am EDT (12:15:25 UTC).
Interesting Selected Aspects | Data by Serennu
— Venus trine Nessus at 1:22 am PDT / 4:22 am EDT (08:22:25 UTC).
— Pallas square Okyrhoe at 5:27 am PDT / 8:27 am EDT (12:26:55 UTC).
— Mercury trine Chariklo at 11:08 am PDT / 2:08 pm EDT (18:08:10 UTC).
— Sun square Mors-Somnus at 12:42 pm PDT / 3:42 pm EDT (19:41:54 UTC).
Subscribe to Planet Waves — sign up here | Visit Our Website at this link
If Your Birthday is Aug. 6
(The Day of Unique Happenings) | Leo Birthday Reading | All Other Signs
Share what you do with the world. Offer your beauty, your ideas and your deepest personal expression. This may feel like you're taking a chance of some kind, and in a sense you are: it's called 'putting yourself out there'. Do this in a bold way that's meaningful to you; in fact, I suggest you try many different experiments. You will learn a little more with each.
Written in the Planets
Today the Moon enters Aquarius on its way to eclipseville. Chances are, by now you've got a clue regarding where in your life this event will show up; the wheels may already be in motion. Keep as steady a pace as you can. Don't forget that Mercury will station retrograde in just under a week: your probable first step if unsure of anything is to gather all available facts and notice details.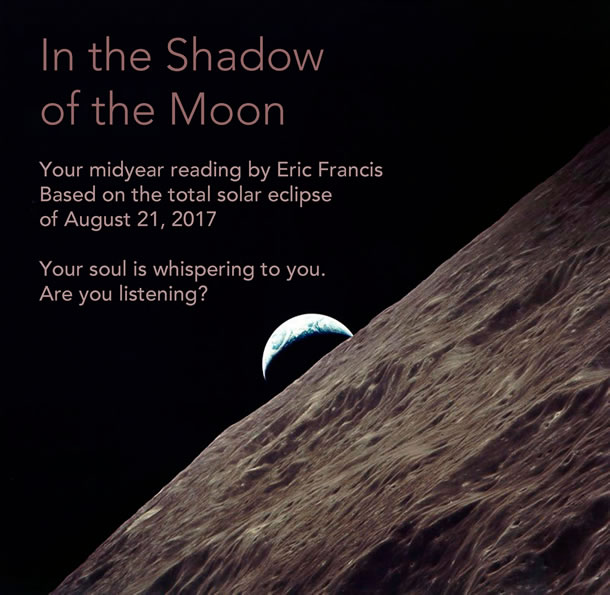 We've just published
In the Shadow of the Moon
, the exciting 2017 Midyear Reading by Eric Francis. The video readings for all 12 signs cover the Great American Eclipse of Aug. 21 and well beyond. We'll be increasing the price again soon, so don't hesitate to
order your copy here
.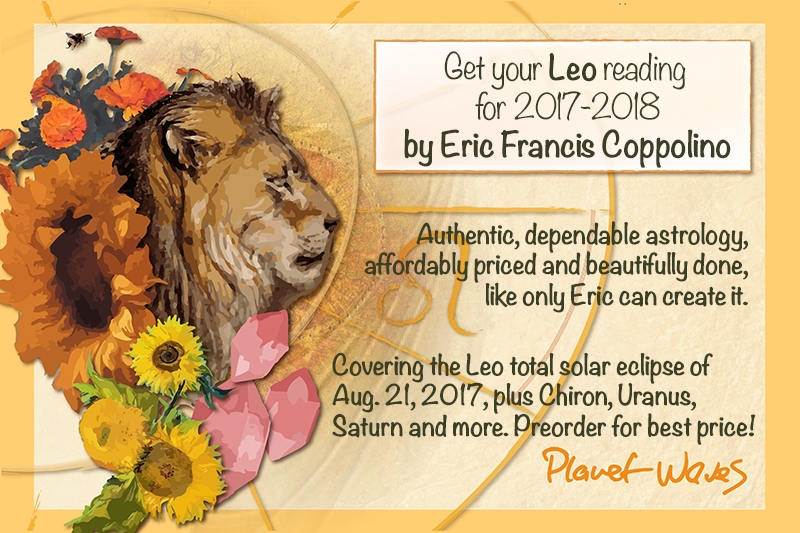 "I have just listened to your Part 1 and Part 2 readings and I am amazed at how accurate it has been. Like you have a telescope watching me shed a skin and transform into a totally changed person in the last 10 years."
— Pauline Jones
If you have a Leo Sun, rising sign or Moon, how are you feeling about your vision for your life, and in what ways are you ready to take action toward it? With a partial lunar eclipse on Monday in your opposite sign Aquarius (your relationship sign), the door opens to one stage of potential transition. In just over two weeks, on Aug. 21, a total solar eclipse in Leo signals the second stage of whatever life-shifting process you're engaged with.
The reverberations from these two eclipses will keep rippling out and developing through the next six to twelve months — and Eric's 2017-18 Leo Birthday Reading is designed to guide you through it all.
"The past few years have been very difficult on many levels and it has been the readings I get through you that keep me going. Always, absolutely right on, every one of them."
— Rhonda