The Only Thing Missing From This Almanac Is Your Daily Horoscope
Every day, you read the Four Winds report, to get a sense of the current energies. There's just one thing missing — your daily horoscope. Written for you, every day of the week, your Planet Waves daily horoscope is designed to give you the clue you need, that little edge to make your life go smoother.
One well-placed line from an astrologer can make all the difference in your life. We now have two editions of the Four Winds Report — one with, and one without your daily reading. You may be one of the readers who wait for years for me to offer you this — and now you can have it. Horoscope Lover membership gets you direct mailing of each day's reading, plus the weekly reading on Sunday night, and the monthly reading the last Thursday of the month. Sign up at this link.
with love,


Today is Friday, Aug. 4, 2017
Hebrew date is 12 Av 5777
Islamic date is 12 Zul-Qi'dah 1438
Mayan Tzolk'in Day is 1 Manik'
Mayan Long Count is 13.0.4.12.7
Julian Day is 2457970
Today's Birthdays: Jan van den Hoecke (1611-1651), Thomas Blackwell (1701-1757), Percy Bysshe Shelley (1792-1822), John Venn (1834-1923), Knut Hamsun (1859-1952), Louis Armstrong (1901-1971), Helen Kane (1904-1966), Anita Page (1910-2008), Hedda Sterne (1910-2011), Herb Ellis (1921-2010), George Irving Bell (1926-2000), Liang Congjie (1932-2010), Moya Brennan (1952), Billy Bob Thornton (1955), Barack Obama (1961), Greta Gerwig (1983).
"Twilight, ascending slowly from the east,
Entwined in duskier wreaths her braided locks
O'er the fair front and radiant eyes of day,
Night followed, clad with stars."
— Percy Bysshe Shelley, "Alastor, or The Spirit of Solitude"
---
Entering the Eclipse Room
Dear Friend and Reader:
Here we are, on the doorstep of this summer's eclipse season: on Monday, Aug. 7, at 2:10 pm EDT, we have an Aquarius Full Moon and partial lunar eclipse; then on Aug. 21, there's the total solar eclipse and second Leo New Moon. You might be wondering how best to step into this metaphorical room once the door opens, and the chart for Monday's lunar eclipse offers some ideas.
Anytime you enter a room full of people, you encounter a specific dynamic: one in which you are aware of yourself as an individual and the impact you may have on the group, and are simultaneously aware of the group as an entity with its own presence and impact on you. At least, that's the ideal.
Many people walk around completely oblivious to both sides of that equation, or else so over-focused on one side of the dynamic that they have no sense of the balancing half.
For example, someone who's very egocentric might only be concerned about their own presence and making sure others respond to them. Someone with very low self-esteem might feel completely at the mercy of a group's expectations and perceived pecking order, and think they have no impact on the other people at all.
It's also possible not to give any of it much conscious thought. Yet here we are, just four days from an eclipse involving two very social zodiac signs: Leo (where the Sun is) and Aquarius (where the Moon will be). The Sun in Leo speaks to that idea of being aware of one's own presence, and the influence or impact you can have on others. The Moon in Aquarius, on the other hand, relates to how group structures, customs and expectations affect you, particularly at the unconscious or emotional level.
---
Moon Phase: Moon is in Waxing Gibbous phase and enters Full phase on Aug. 7 at 11:10 am PDT / 2:10 pm EDT (18:10:33 UTC).
Next Full Moon is in Aquarius on Aug. 7 at 11:10 am PDT / 2:10 pm EDT (18:10:33 UTC).
Next New Moon is in Leo on Aug. 21 at 11:30 am PDT / 2:30 pm EDT (18:30:06 UTC).
Moon Sign: Moon is in Capricorn and enters Aquarius on Aug. 6 at 5:15 am PDT / 8:15 am EDT (12:15:25 UTC).
Sun Degree: 12-13 Leo.
Planetary Stations and Sign Changes
Orius enters Sagittarius (retrograde) at 7:49 pm PDT / 10:49 pm EDT (02:49:21 Aug. 5 UTC).
Interesting Selected Aspects | Data by Serennu
— Vesta conjunct Orcus at 11:04 pm Aug. 3 PDT / 2:04 am EDT (06:03:55 UTC).
— Venus opposite Juno at 12:17 am PDT / 3:17 am EDT (07:17:37 UTC).
— Jupiter square Pluto at 11:48 am PDT / 2:48 pm EDT (18:48:02 UTC).
— Venus opposite Hylonome at 6:57 pm PDT / 9:57 pm EDT (01:57:21 Aug. 5 UTC).
— Mars square Pallas at 7:31 pm PDT / 10:31 pm EDT (02:31:27 Aug. 5 UTC).
Subscribe to Planet Waves — sign up here | Visit Our Website at this link
If Your Birthday is Aug. 4
(The Day of the Guiding Light) | Leo Birthday Reading | All Other Signs
Your idea of success must involve some form of advocacy or social justice. And it must omit any form of jealousy about anyone else's success; envy has no place in one's true life-purpose. Then you will be free to do your thing your way, and to work with your bold, creative ideas. Remember that you're not here to play the game. You're here to rewrite the rules.
Written in the Planets
We're closing in on Monday's partial lunar eclipse, and the sky is offering you a little boost to meet it. Today Jupiter in Libra squares Pluto in Capricorn. This is a symbol of motivation to achieve something. Wherever you're feeling that urge, remember that whenever one carries a big stick (or vision, goal or impulse), walking softly is often integral to getting things done with minimal kickback from others. Keeping practical details in mind could help you avoid pushing too hard, yet still enable you to move toward the big picture in satisfying (and meaningful) ways.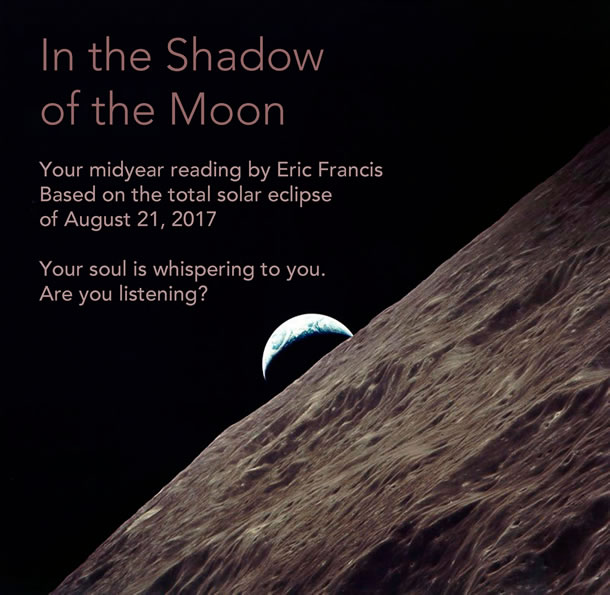 Just in time for the Great American Eclipse of Aug. 21, 2017, you'll have access to a helpful, excellent video astrology reading. These will be done by sign and rising sign; each reading is about half an hour. Over the next few days, the price of this reading will be increasing. It's now $77; by this evening, it will be $88; and on Sunday it'll be raised again. The final published price will be $111. You may
pre-order here
.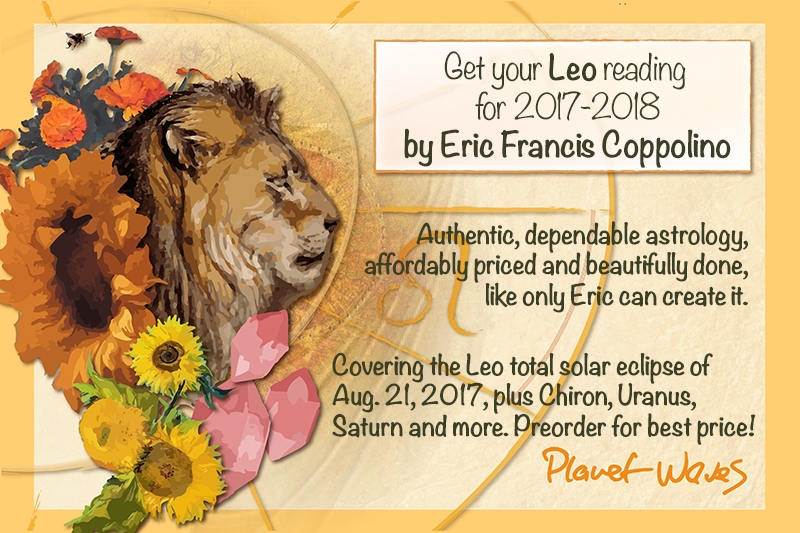 "I have just listened to your Part 1 and Part 2 readings and I am amazed at how accurate it has been. Like you have a telescope watching me shed a skin and transform into a totally changed person in the last 10 years."
— Pauline Jones
If you have a Leo Sun, rising sign or Moon, how are you feeling about your vision for your life, and in what ways are you ready to take action toward it? With a partial lunar eclipse on Monday in your opposite sign Aquarius (your relationship sign), the door opens to one stage of potential transition. In just over two weeks, on Aug. 21, a total solar eclipse in Leo signals the second stage of whatever life-shifting process you're engaged with.
The reverberations from these two eclipses will keep rippling out and developing through the next six to twelve months — and Eric's upcoming 2017-18 Leo Birthday Reading will be designed to guide you through it all.
"The past few years have been very difficult on many levels and it has been the readings I get through you that keep me going. Always, absolutely right on, every one of them."
— Rhonda