The Only Thing Missing From This Almanac Is Your Daily Horoscope
Every day, you read the Four Winds report, to get a sense of the current energies. There's just one thing missing — your daily horoscope. Written for you, every day of the week, your Planet Waves daily horoscope is designed to give you the clue you need, that little edge to make your life go smoother.
One well-placed line from an astrologer can make all the difference in your life. We now have two editions of the Four Winds Report — one with, and one without your daily reading. You may be one of the readers who wait for years for me to offer you this — and now you can have it. Horoscope Lover membership gets you direct mailing of each day's reading, plus the weekly reading on Sunday night, and the monthly reading the last Thursday of the month. Sign up at this link.
with love,


Today is Thursday, Aug. 3, 2017
Hebrew date is 11 Av 5777
Islamic date is 11 Zul-Qi'dah 1438
Mayan Tzolk'in Day is 13 Kimi
Mayan Long Count is 13.0.4.12.6
Julian Day is 2457969
Today's Birthdays: Joseph Paxton (1803-1865), Rupert Brooke (1887-1915), Dolores del Rio (1904-1983), P. D. James (1920-2014), Jean Hagen (1923-1977), Cecile Aubry (1928-2010), Georgy Shonin (1935-1997), Vic Vogel (1935), Terry Wogan (1938-2016), Beverly Lee (1941), Bela Bollobas (1943), Steven Millhauser (1943), John Landis (1950), Martin Atkins (1959), Koichi Tanaka (1959), Molly Hagan (1961), Tasmin Archer (1963), Isaiah Washington (1963), Skin (1967), Michael Ealy (1973), Evangeline Lilly (1979), Hannah Simone (1980), D.R.A.M. (1988).
"The intention of any novelist must surely be to make that straight avenue to the human heart."
— P. D. James
Jen Sorensen | More Interesting Opposition Plans
The Democratic Party has come under fire for its toothless policies, and unwillingness to learn from the Bern. If you're looking for an opposition economic plan that's a little zingier than the Dems' "Better Deal," cartoonist Jen Sorensen has it covered.
Moon Phase: Moon is in First Quarter phase and enters Waxing Gibbous phase today at 10:42 am PDT / 1:42 pm EDT (17:42:00 UTC).
Next Full Moon is in Aquarius on Aug. 7 at 11:10 am PDT / 2:10 pm EDT (18:10:33 UTC).
Next New Moon is in Leo on Aug. 21 at 11:30 am PDT / 2:30 pm EDT (18:30:06 UTC).
Moon Sign: Moon is in Sagittarius and enters Capricorn tonight at 5:36 pm PDT / 8:36 pm EDT (00:36:30 Aug. 4 UTC).
Sun Degree: 12 Leo.
Planetary Stations and Sign Changes
Uranus stations retrograde at 10:31 pm Aug. 2 PDT / 1:31 am EDT (05:30:53 UTC).
Moon enters Capricorn at 5:36 pm PDT / 8:36 pm EDT (00:36:30 Aug. 4 UTC).
Interesting Selected Aspects | Data by Serennu
— Jupiter trine Asbolus at 2:17 am PDT / 5:17 am EDT (09:16:56 UTC).
— Mercury conjunct Orcus at 5:03 am PDT / 8:03 am EDT (12:03:39 UTC).
— Ceres opposite Chariklo at 1:23 pm PDT / 4:23 pm EDT (20:23:21 UTC).
Subscribe to Planet Waves — sign up here | Visit Our Website at this link
If Your Birthday is Aug. 3
(The Day of the Dangerous Quest) | Leo Birthday Reading | All Other Signs
It is said that faith can move mountains, and you can discover that in the coming year of your life. Faith is not hope. It's not 'aspirational'. Rather, it's about a deep acceptance of your relationship to existence. Then there's the forgiveness aspect, which is the true key to opening up one's spiritual connection. Yet you can only find out through direct experiments.
Written in the Planets
The movements of Uranus and the Moon today suggest that lasting alterations generally happen in stages. Often, to change a habit or routine completely requires planning, perseverance and determination. Even the most inspired of epiphanies needs some groundwork in order to manifest the wonderful idea. If you have a vision for something new in your life, by all means have faith in it; just be prepared to back it up with operational details.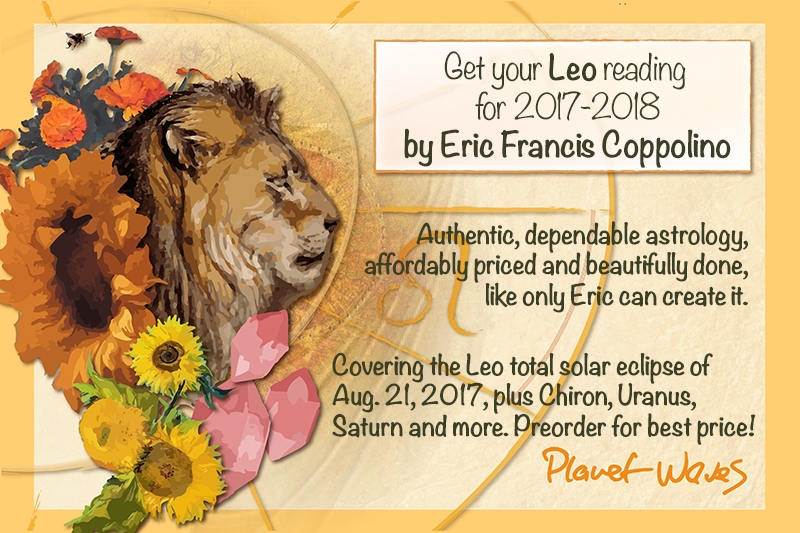 "Ah Eric — just listened to your reading. I was moved to tears by your closing words. Your passion, deep care and love always shine through; and you have the gift of all great teachers, of making one feel that one is being personally addressed, respected and taken care of."
— Liz Glanville
This is a seminal year for Leo Sun, rising and Moon, with two New Moons in your sign, the second one a potent solar eclipse. All the more reason to take hold of the reins and steer this dynamic energy in the direction that works for you.
Your 2017-18 Leo Birthday Reading by Eric Francis will be exactly the support you need to navigate through these exciting transits. It's now available for pre-order at just $44, so be sure to grab a copy — whether for yourself or the Leo you love — before that increases.
"Thanks for reassuring this Leo, who is having a year 'for the books'! You get to the core of things."
— Barbara Peaslee, on a previous Leo reading