The Only Thing Missing From This Almanac Is Your Daily Horoscope
Every day, you read the Four Winds report, to get a sense of the current energies. There's just one thing missing — your daily horoscope. Written for you, every day of the week, your Planet Waves daily horoscope is designed to give you the clue you need, that little edge to make your life go smoother.
One well-placed line from an astrologer can make all the difference in your life. We now have two editions of the Four Winds Report — one with, and one without your daily reading. You may be one of the readers who wait for years for me to offer you this — and now you can have it. Horoscope Lover membership gets you direct mailing of each day's reading, plus the weekly reading on Sunday night, and the monthly reading the last Thursday of the month. Sign up at this link.
with love,


Today is Tuesday, Aug. 29, 2017
Hebrew date is 7 Elul 5777
Islamic date is 7 Zul-Hijjah 1438
Mayan Tzolk'in Day is 13 Eb'
Mayan Long Count is 13.0.4.13.12
Julian Day is 2457995
Today's Birthdays: John Locke (1632-1704), Henry Bergh (1811-1888), Edward Carpenter (1844-1929), Werner Forssmann (1904-1979), Ingrid Bergman (1915-1982), Richard Attenborough (1923-2014), Dinah Washington (1924-1963), Thom Gunn (1929-2004), Elliott Gould (1938), Mohamed Amin (1943-1966), Arthur B. McDonald (1943), Temple Grandin (1947), Diamanda Galas (1955), Lenny Henry (1958), Michael Jackson (1958-2009), Carla Gugino (1971), Lea Michele (1986).
"They may ask why nature or God created such horrible conditions as autism, manic depression, and schizophrenia. However, if the genes that caused these conditions were eliminated there might be a terrible price to pay."
— Temple Grandin
Moon Phase: Moon is in Waxing Crescent phase and enters First Quarter phase today at 1:13 am PDT / 4:13 am EDT (08:12:55 UTC).
Next Full Moon is in Pisces on Sep. 6 at 12:03 am PDT / 3:03 am EDT (07:02:43 UTC).
Corresponding New Moon in Virgo is on Sep. 19-20 at 10:30 pm PDT / 1:30 am EDT (05:29:47 UTC).
Moon Sign: Moon is in Sagittarius and enters Capricorn on Aug. 31 at 1:18 am PDT / 4:18 am EDT (08:18:18 UTC).
Sun Degree: 7 Virgo.
Planetary Stations and Sign Changes
No changes today.
Interesting Selected Aspects | Data by Serennu
— Mercury square Huya at 3:02 am PDT / 6:02 am EDT (10:02:20 UTC).
— Sun trine 1992 QB1 at 11:51 am PDT / 2:51 pm EDT (18:51:38 UTC).
— Venus opposite Crantor at 8:37 pm PDT / 11:37 pm EDT (03:36:42 Aug. 30 UTC).
This Week's Horoscope for Virgo by Eric Francis Coppolino
You're about to experience the most interesting effects of Mercury retrograde and the solar eclipse. Many things come together over the next week, meaning that you'll see patterns you may have entirely missed until now. So, in honor of that you might focus on noticing the way the different elements of your life story form constellations. Who, for example, is appearing from the past, and what are you learning when they show up? Are you carrying around old grievances, or are you letting them go? Don't take your anger too seriously. There is, however, one thing that may actually be troubling you, even though you haven't given it a name yet. If you tap into your deeper anger, you will know it, and that's the time to make a point of resolving the matter. Pay specific attention to any way that parents or parent-figures show up, particularly as those with intractable opinions. Among other things, you simply must be more flexible than that.
You may read all 12 signs here.
Subscribe to Planet Waves — sign up here | Visit Our Website at this link
If Your Birthday is Aug. 29
(The Day of Structured Action) | Virgo Birthday Reading | All Other Signs
You may be driven or even obsessed by an idea. This may relate to a personal discovery, a business plan, an invention or a creative project. Still, no matter how much energy you invest in that seemingly external thing, you will be guided again and again into the realm of your inner being. Don't be afraid to go there: self-knowledge is the freedom of who you are.
Written in the Planets
Hanging on to hurts from the past and how they came to be — especially in relationships — is rarely an efficient or effective path to healing. But what if you feel like it's impossible to heal your fixation on what happened? Or what if you feel that moving forward, getting your needs met or getting 'justice' can only happen with the help of another person or through some form of relationship? The asteroid Juno in a square to Psyche and Makemake in Libra seems to pose these questions and the tension that goes with them. Retrograde Mercury in Virgo, making a slow trine to Juno, suggests there's a difference between looking within and fixating on the past. The difference being: eventually you integrate what you've discovered and use it to look, think and move forward again.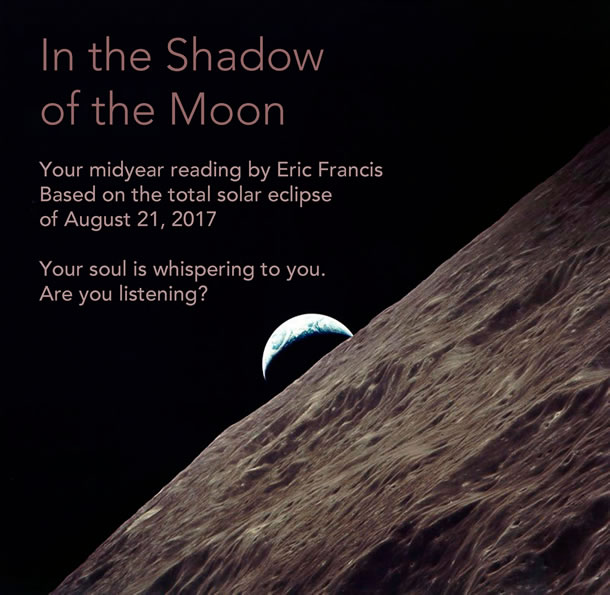 In the Shadow of the Moon, the exciting 2017 Midyear Reading by Eric Francis, is now published. The video readings for all 12 signs cover the Great American Eclipse of Aug. 21 and well beyond. We'll be increasing the price again very soon, so don't hesitate to
order your copy here
. You can also now choose your
individual signs here
.