The Only Thing Missing From This Almanac Is Your Daily Horoscope
Every day, you read the Four Winds report, to get a sense of the current energies. There's just one thing missing — your daily horoscope. Written for you, every day of the week, your Planet Waves daily horoscope is designed to give you the clue you need, that little edge to make your life go smoother.
One well-placed line from an astrologer can make all the difference in your life. We now have two editions of the Four Winds Report — one with, and one without your daily reading. You may be one of the readers who wait for years for me to offer you this — and now you can have it. Horoscope Lover membership gets you direct mailing of each day's reading, plus the weekly reading on Sunday night, and the monthly reading the last Thursday of the month. Sign up at this link.
with love,


Today is Monday, Aug. 28, 2017
Hebrew date is 6 Elul 5777
Islamic date is 6 Zul-Hijjah 1438
Mayan Tzolk'in Day is 12 Chuwen
Mayan Long Count is 13.0.4.13.11
Julian Day is 2457994
Today's Birthdays: Francisco de Sa de Miranda (1481-1558), Johann Wolfgang von Goethe (1749-1832), John Betjeman (1906-1984), Roger Tory Peterson (1908-1996), Morris Graves (1910-2001), Roxie Roker (1929-1995), Ben Gazzara (1930-2012), David Soul (1943), Rita Dove (1952), Ai Weiwei (1957), Brian Thompson (1959), Shania Twain (1965), Billy Boyd (1968), Jack Black (1969), LeAnn Rimes (1982), Florence Welch (1986).
"I don't plan my poetry books; I write from poem to poem until the fulcrum tips, and the accrued texts tell me where to go. So I'm writing poems — lyrics, as well as strange internal monologues — and I have no idea where they'll lead me. But that's what keeps me coming back for more."
— Rita Dove
---
It's Gonna Get Stranger
Never a dull moment, huh? I trust, at least, that a touch of normalcy or at least a slower pace has returned to your personal life. We could all use a little break; and there have been few to be had, though there was a distinct pressure drop in the days after last week's long-anticipated eclipse.
Over the weekend, Mercury and the Sun formed their interior conjunction, marking the halfway point of Mercury retrograde. Right now, Mercury is where the action is. As I mentioned in Thursday's edition, Mercury makes a series of moves on the way to stationing direct on Sept. 5.
If astrology means anything, this will stir up a whole new frenzy in national affairs, which people are taking on a rather personal level these days.
This includes the grand total of zero Planet Waves readers who show up to white supremacy marches, and others who show up at the gleeful counter-protests that are the real gift of the current political moment.
---
Moon Phase: Moon is in Waxing Crescent phase and enters First Quarter phase on Aug. 29 at 1:13 am PDT / 4:13 am EDT (08:12:55 UTC).
Next Full Moon is in Pisces on Sep. 6 at 12:03 am PDT / 3:03 am EDT (07:02:43 UTC).
Corresponding New Moon in Virgo is on Sep. 19-20 at 10:30 pm PDT / 1:30 am EDT (05:29:47 UTC).
Moon Sign: Moon is in Scorpio and enters Sagittarius today at 12:47 pm PDT / 3:47 pm EDT (19:47:25 UTC).
Sun Degree: 6-7 Virgo.
Planetary Stations and Sign Changes
Moon enters Sagittarius at 12:47 pm PDT / 3:47 pm EDT (19:47:25 UTC).
Interesting Selected Aspects | Data by Serennu
— Juno square Makemake at 2:36 am PDT / 5:36 am EDT (09:36:13 UTC).
— Sun opposite Nessus at 6:53 pm PDT / 9:53 pm EDT (01:52:46 Aug. 29 UTC).
— Venus conjunct Thereus at 8:50 pm PDT / 11:50 pm EDT (03:49:41 Aug. 29 UTC).
Subscribe to Planet Waves — sign up here | Visit Our Website at this link
If Your Birthday is Aug. 28
(The Day of Language) | Virgo Birthday Reading | All Other Signs
Don't be distracted by your anger or irritation. Rather, use these things as a source of strength, power and inspiration. Motivate yourself with the desire to change, to grow and to change the world. Large forces are at work in your life, and if you keep your hands on the wheel, you will be able to guide yourself to bold and interesting destinations.
Written in the Planets
An opposition between the Sun and Nessus, with the Moon squaring both, could bring up some old issue — possibly in disguised form. You might find your hackles are raised, without quite knowing why; or, at least, without knowing the full story. It would probably be worth your while to give the matter some scrutiny, even if you're inclined to shy away from doing so. This is especially true if you feel a sense of discomfort, which you may view as a sign you're on the right track.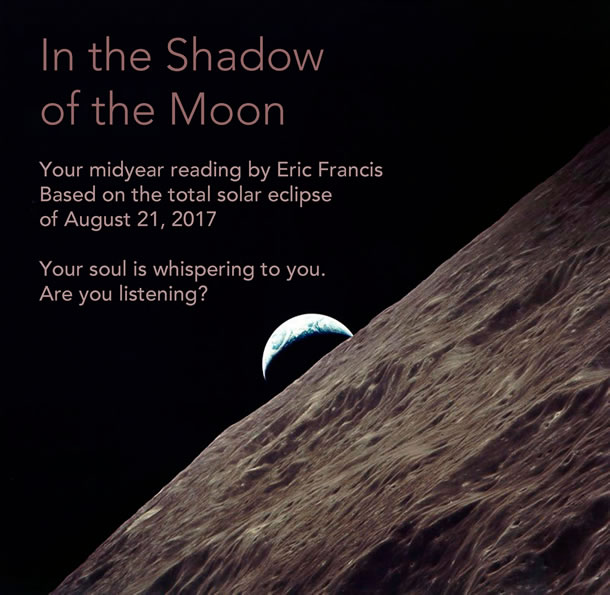 In the Shadow of the Moon, the exciting 2017 Midyear Reading by Eric Francis, is now published. The video readings for all 12 signs cover the Great American Eclipse of Aug. 21 and well beyond. We'll be increasing the price again very soon, so don't hesitate to
order your copy here
. You can also now choose your
individual signs here
.