The Only Thing Missing From This Almanac Is Your Daily Horoscope
Every day, you read the Four Winds report, to get a sense of the current energies. There's just one thing missing — your daily horoscope. Written for you, every day of the week, your Planet Waves daily horoscope is designed to give you the clue you need, that little edge to make your life go smoother.
One well-placed line from an astrologer can make all the difference in your life. We now have two editions of the Four Winds Report — one with, and one without your daily reading. You may be one of the readers who wait for years for me to offer you this — and now you can have it. Horoscope Lover membership gets you direct mailing of each day's reading, plus the weekly reading on Sunday night, and the monthly reading the last Thursday of the month. Sign up at this link.
with love,


Today is Sunday, Aug. 27, 2017
Hebrew date is 5 Elul 5777
Islamic date is 5 Zul-Hijjah 1438
Mayan Tzolk'in Day is 11 Ok
Mayan Long Count is 13.0.4.13.10
Julian Day is 2457993
Today's Birthdays: Rhazes (865-925), Odon Lechner (1845-1914), Katharine McCormick (1875-1967), Man Ray (1890-1976), C. S. Forester (1899-1966), Lester Young (1909-1959), Ira Levin (1929-2007), Alice Coltrane (1937-2007), Jeanette Winterson (1959), Yolanda Adams (1961), Tom Ford (1961), Chandra Wilson (1969), Audrey C. Delsanti (1976), Alexa Vega (1988).
"But not all dark places need light; I have to remember that."
— Jeanette Winterson
Moon Phase: Moon is in Waxing Crescent phase and enters First Quarter phase on Aug. 29 at 1:13 am PDT / 4:13 am EDT (08:12:55 UTC).
Next Full Moon is in Pisces on Sep. 6 at 12:03 am PDT / 3:03 am EDT (07:02:43 UTC).
Corresponding New Moon in Virgo is on Sep. 19-20 at 10:30 pm PDT / 1:30 am EDT (05:29:47 UTC).
Moon Sign: Moon is in Scorpio and enters Sagittarius on Aug. 28 at 12:47 pm PDT / 3:47 pm EDT (19:47:25 UTC).
Sun Degree: 5-6 Virgo.
Planetary Stations and Sign Changes
Sedna stations retrograde at 11:36 am PDT / 2:36 pm EDT (18:36:14 UTC).
Interesting Selected Aspects | Data by Serennu
— Jupiter sextile Saturn at 5:15 am PDT / 8:15 am EDT (12:15:08 UTC).
— Mercury conjunct Rhiphonos at 3:20 pm PDT / 6:20 pm EDT (22:20:05 UTC).
— Mercury trine Juno at 6:37 pm PDT / 9:37 pm EDT (01:37:03 Aug. 28 UTC).
Planet Waves Daily Oracle for Aug. 27, 2017
It would appear that a certain odd energy has worked its way into your home over the past year, but as events of the next four or five weeks unfold, you'll have a much better sense of what it is. Meanwhile, be on the lookout for clues that someone is rebelling against you, or your role in their life. Encourage them to talk sooner rather than later. Or, you could just wait and watch what unfolds, but remember not to act too surprised when the silent tongue speaks. Some people have strange ways of expressing love. You will probably need to do some translating.
The Oracle is a daily mini-reading divined from our extensive Horoscope Archive. You can research any Planet Waves horoscope published since 1999 at the Horoscope Archive and Oracle.
Subscribe to Planet Waves — sign up here | Visit Our Website at this link
If Your Birthday is Aug. 27
(The Day of Social Ideals) | Virgo Birthday Reading | All Other Signs
Whatever may be your direction of travel in the world, your real journey is to be headed inward. This thing called "inner awareness" has become increasingly elusive in the digital age, yet it's currently the purpose of your life. You have many interesting things brewing, but at the moment, none of them is as interesting as who you're discovering you are.
Written in the Planets
Jupiter and Saturn might be thought of as the two planets in astrology that are mainly associated with leadership or authority. Today they meet in a sextile, which has been long in the making. There are likely several possible ways you can put this harmonious and productive aspect to use: one might be taking the opportunity to move a specific project forward; another could be bringing your expertise, power or privilege to bear on a social justice issue that you care about. Since Mercury is retrograde, however, one caution: choose your words with care, and take particular pains to speak truthfully.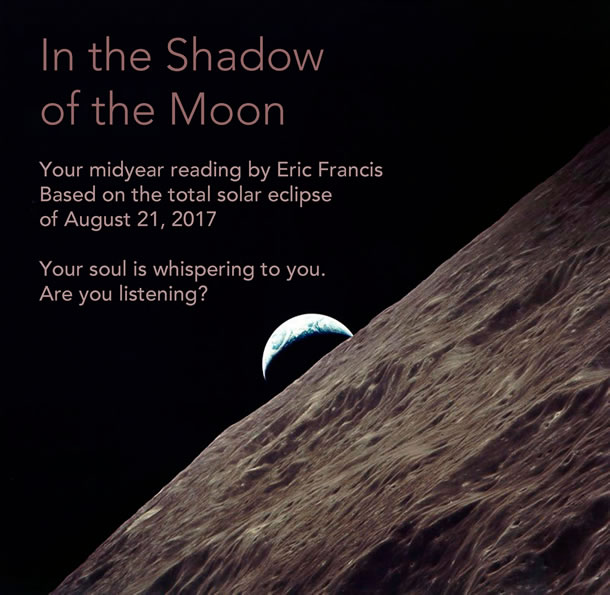 In the Shadow of the Moon, the exciting 2017 Midyear Reading by Eric Francis, is now published. The video readings for all 12 signs cover the Great American Eclipse of Aug. 21 and well beyond. We'll be increasing the price again very soon, so don't hesitate to
order your copy here
. You can also now choose your
individual signs here
.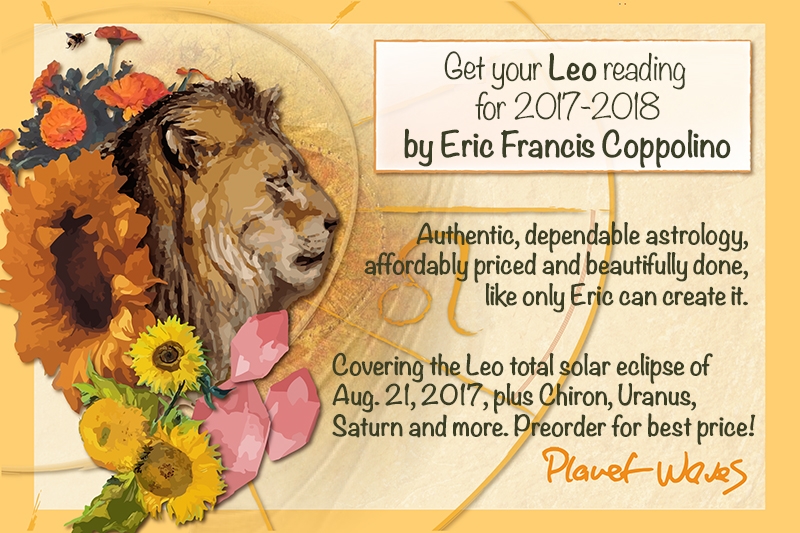 Leo Eclipse and Beyond
On Aug. 21, a total solar eclipse in Leo signaled the second stage of whatever life-shifting process you're engaged with.
This is a unique year for you, Leo. In addition to the current eclipses (and the double New Moons in your sign), your birthday reading will cover such astrological heavyweights as Chiron finishing up its journey through your 8th house; ever-surprising Uranus; and Saturn leaving your fellow fire sign, Sagittarius — plus more.
Are you navigating changes in your relationships or family paradigm? Do you find yourself at a career crossroads? Are you seeking clarity, encouragement and new perspectives on your creativity, self-esteem, sexuality or healing process? You'll find ideas and reassurance in this reading.
"I have just listened to your Part 1 and Part 2 readings and I am amazed at how accurate it has been. Like you have a telescope watching me shed a skin and transform into a totally changed person in the last 10 years."
– Pauline Jones
Your reading is now priced at $44; so you'll want to order your 2017 Leo Reading very soon. This reading is designed to work for anyone with Leo Sun, Leo rising and even Leo Moon — and makes an amazing gift.