The Only Thing Missing From This Almanac Is Your Daily Horoscope
Every day, you read the Four Winds report, to get a sense of the current energies. There's just one thing missing — your daily horoscope. Written for you, every day of the week, your Planet Waves daily horoscope is designed to give you the clue you need, that little edge to make your life go smoother.
One well-placed line from an astrologer can make all the difference in your life. We now have two editions of the Four Winds Report — one with, and one without your daily reading. You may be one of the readers who wait for years for me to offer you this — and now you can have it. Horoscope Lover membership gets you direct mailing of each day's reading, plus the weekly reading on Sunday night, and the monthly reading the last Thursday of the month. Sign up at this link.
with love,


Today is Saturday, Aug. 26, 2017
Hebrew date is 4 Elul 5777
Islamic date is 4 Zul-Hijjah 1438
Mayan Tzolk'in Day is 10 Muluk
Mayan Long Count is 13.0.4.13.9
Julian Day is 2457992
Today's Birthdays: Marie-Anne-Catherine Quinault (1695-1791), Johann Heinrich Lambert (1728-1777), Joseph-Michel Montgolfier (1740-1810), Zona Gale (1874-1938), Albert Sabin (1906-1993), Mother Teresa (1910-1997), Otto Binder (1911-1974), Katherine Johnson (1918), Vic Dana (1940), Maureen Tucker (1944), Nikky Finney (1957), Allegra Huston (1964), Adrian Young (1969), Melissa McCarthy (1970), Macaulay Culkin (1980), Chris Pine (1980), Cassie Ventura (1986), Evan Ross (1988), Dylan O'Brien (1991).
"I can't — I can hardly sleep. I can hardly do anything else but write about this because this is the time to be an artist. This is the time to be alert. This is the time to have all my senses in Olympic training mode. Because we — if we are not going to speak into this wind, this particular dangerous times 10 wind, then we are not artists."
— Nikky Finney
September 2017 Horoscope for Virgo by Eric Francis Coppolino
When Mercury, your ruling planet, stations direct on Sept. 5, it does so in the exact same degree as the now-infamous total solar eclipse that happened on Aug. 21. The eclipse created an opening, and now you're about to find out what was really going on. This will, perhaps, take the rest of the month, because you'll need to integrate a discovery that you may find quite unbelievable. The odd bits include how what you figure out was right where you could have seen it all along; and then, how you'll have to consciously make sense of the discovery. What's actually happening is that your mind is opening up in a way that's never happened before. You're becoming more sensitive to an inner source of information, which you can depend upon implicitly. Said another way, you are changing; the structure of your psyche is changing; you are, in truth, a much larger being than you ever imagined. Practicing using these skills, and being this person, will build your confidence in ways you've never imagined possible. The way that a shamanic teacher might phrase things, you're entering into a new relationship to the vast unknown, which you contain. You must stand in a conscious relationship to the mystery of your existence. Let it be what it is, without the need to 'solve' or even resolve anything.
You may read all 12 signs here.
Moon Phase: Moon is in Waxing Crescent phase and enters First Quarter phase on Aug. 29 at 1:13 am PDT / 4:13 am EDT (08:12:55 UTC).
Next Full Moon is in Pisces on Sep. 6 at 12:03 am PDT / 3:03 am EDT (07:02:43 UTC).
Corresponding New Moon in Virgo is on Sep. 19-20 at 10:30 pm PDT / 1:30 am EDT (05:29:47 UTC).
Moon Sign: Moon is in Libra and enters Scorpio today at 1:53 am PDT / 4:53 am EDT (08:52:46 UTC).
Sun Degree: 4-5 Virgo.
Planetary Stations and Sign Changes
Venus enters Leo at 9:29 pm Aug. 25 PDT / 12:29 am EDT (04:29:34 UTC).
Moon enters Scorpio at 1:53 am PDT / 4:53 am EDT (08:52:46 UTC).
Juno stations direct at 10:13 am PDT / 1:13 pm EDT (17:13:34 UTC).
Interesting Selected Aspects | Data by Serennu
— Mars trine Eris at 6:50 am PDT / 9:50 am EDT (13:50:25 UTC).
— Venus conjunct Varuna at 1:30 pm PDT / 4:30 pm EDT (20:29:49 UTC).
— Sun conjunct Mercury at 1:42 pm PDT / 4:42 pm EDT (20:42:07 UTC).
— Juno square Elatus at 4:02 pm PDT / 7:02 pm EDT (23:02:10 UTC).
Subscribe to Planet Waves — sign up here | Visit Our Website at this link
If Your Birthday is Aug. 26
(The Day of the Supportive Partner) | Virgo Birthday Reading | All Other Signs
You may feel like what you're thinking is so obvious, everyone should be able to read your mind. However, you're more opaque than you may feel, and you would do well to explain yourself. Make it plain to others what you've got on your mind. As you do this, you'll figure it out for yourself; a method of growth which will serve you brilliantly.
Written in the Planets
On the one hand, Mercury conjunct the Sun in Virgo today suggests an ability to express your more service-oriented (and most detailed) ideas — even with Mercury retrograde. (Don't be surprised if you find yourself taking a cue from the past, perhaps revised, to apply today.) On the other hand, Mars in Leo is making a potentially combustible grand fire trine with sister Eris in Aries and Ixion in Sagittarius. This a reminder that — no matter how noble you think your intentions — it's essential to keep your actions ethical and transparent. Check your motives carefully, as well as your M.O. Asking someone for feedback could be key.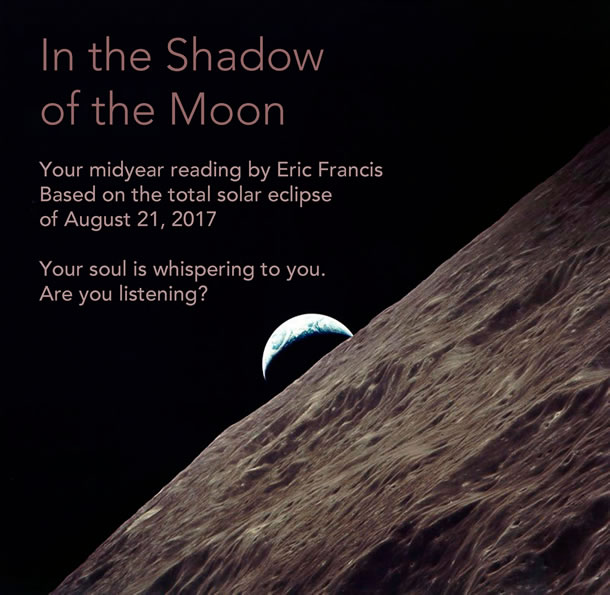 In the Shadow of the Moon, the exciting 2017 Midyear Reading by Eric Francis, is now published. The video readings for all 12 signs cover the Great American Eclipse of Aug. 21 and well beyond. We'll be increasing the price again very soon, so don't hesitate to
order your copy here
. You can also now choose your
individual signs here
.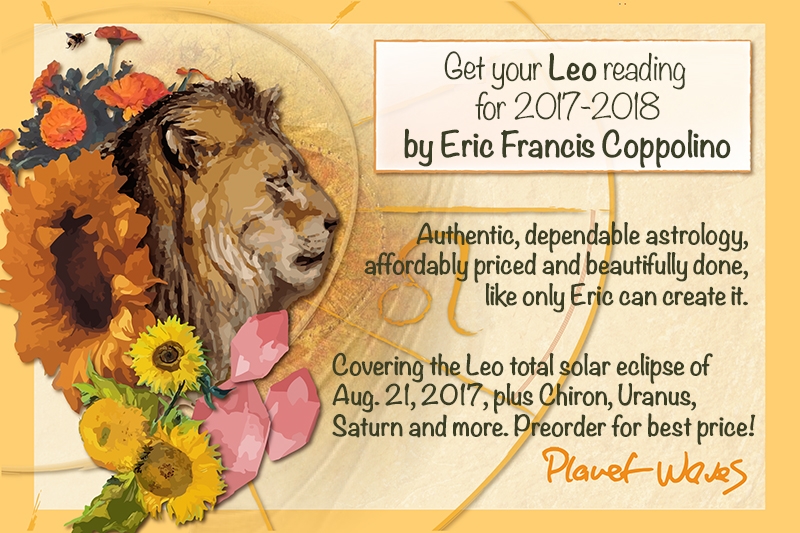 Leo Eclipse and Beyond
On Aug. 21, a total solar eclipse in Leo signaled the second stage of whatever life-shifting process you're engaged with.
This is a unique year for you, Leo. In addition to the current eclipses (and the double New Moons in your sign), your birthday reading will cover such astrological heavyweights as Chiron finishing up its journey through your 8th house; ever-surprising Uranus; and Saturn leaving your fellow fire sign, Sagittarius — plus more.
Are you navigating changes in your relationships or family paradigm? Do you find yourself at a career crossroads? Are you seeking clarity, encouragement and new perspectives on your creativity, self-esteem, sexuality or healing process? You'll find ideas and reassurance in this reading.
"I have just listened to your Part 1 and Part 2 readings and I am amazed at how accurate it has been. Like you have a telescope watching me shed a skin and transform into a totally changed person in the last 10 years."
– Pauline Jones
Your reading is now priced at $44; so you'll want to order your 2017 Leo Reading very soon. This reading is designed to work for anyone with Leo Sun, Leo rising and even Leo Moon — and makes an amazing gift.