The Only Thing Missing From This Almanac Is Your Daily Horoscope
Every day, you read the Four Winds report, to get a sense of the current energies. There's just one thing missing — your daily horoscope. Written for you, every day of the week, your Planet Waves daily horoscope is designed to give you the clue you need, that little edge to make your life go smoother.
One well-placed line from an astrologer can make all the difference in your life. We now have two editions of the Four Winds Report — one with, and one without your daily reading. You may be one of the readers who wait for years for me to offer you this — and now you can have it. Horoscope Lover membership gets you direct mailing of each day's reading, plus the weekly reading on Sunday night, and the monthly reading the last Thursday of the month. Sign up at this link.
with love,


Today is Friday, Aug. 18, 2017
Hebrew date is 26 Av 5777
Islamic date is 26 Zul-Qi'dah 1438
Mayan Tzolk'in Day is 2 Imix'
Mayan Long Count is 13.0.4.13.1
Julian Day is 2457984
Today's Birthdays: Agneta Horn (1629-1672), Margaret Murie (1902-2003), Herman Berlinski (1910-2001), Amelia Boynton Robinson (1911-2015), Klara Dan von Veumann (1911-1963), Shelley Winters (1920-2006), Luc Montagnier (1932), Gail Fisher (1935-2000), Robert Redford (1936), Paula Danziger (1944-2004), Patrick Swayze (1952-2009), Marvin Isley (1953-2010), Umberto Guidoni (1954), Denis Leary (1957), Madeleine Stowe (1958), Edward Norton (1969), Malcolm-Jamal Warner (1970), Nicole Krauss (1974), Andy Samberg (1978).
"Wilderness itself is the basis of all our civilization. I wonder if we have enough reverence for life to concede to wilderness the right to live on?"
— Margaret Murie
---
Count Yourself In
Dear Friend and Reader:
It's tempting, in times of pain, chaos and transformation, to think there are no opportunities for you to participate, or feel like life is so insane that nothing matters, and besides, the world is ending anyway. Plenty of people are caught in the meme that nothing makes a difference, especially them.
I know it can seem that way. We're moving at the compressed speed of events between eclipses, and our minds are warped into the light-speed movement of electric communication that delivers the latest crisis to our purse or pocket in mere seconds. Everything is accelerated, magnified and thrown into a mash-up with everything else streaming across your news feed and beleaguered brain.
It's easy to imagine there's no place for you in the world at this time, or that there's no use trying. You might be so disgusted, shocked or scared, that you cannot figure out what to do. I'm here with another idea. But first, let's review the recent past.
Just think, last week at this time, I was writing to you about the not-so-real threat of nuclear war with North Korea. Remember that? Trump's threat of hellfire and brimstone, and all the angles of the "announcement" chart going into the mutable signs, saying the whole thing was insubstantial?
Remember the Nuclear Axis chart? And Kim Jong-un and The Donald, throwing adolescent tantrums as people in Seoul and Tokyo wondered if they were in the line of fire?
That was just seven days ago; I know that's a long time, and it's hard to remember so far back in ancient history.
---
Moon Phase: Moon is in Last Quarter phase and enters Balsamic (waning crescent) phase on Aug. 18 at 2:50 am PDT / 5:50 am EDT (09:50:22 UTC).
Next New Moon is in Leo on Aug. 21 at 11:30 am PDT / 2:30 pm EDT (18:30:06 UTC).
Next Full Moon is in Pisces on Sep. 6 at 12:03 am PDT / 3:03 am EDT (07:02:43 UTC).
Moon Sign: Moon is in Cancer and enters Leo on Aug. 19 at 10:54 am PDT / 1:54 pm EDT (17:54:31 UTC).
Sun Degree: 26-27 Leo.
Planetary Stations and Sign Changes
Mors-Somnus stations retrograde at 4:27 pm PDT / 7:27 pm EDT (23:27:37 UTC).
Interesting Selected Aspects | Data by Serennu
— Mars square Ceto at 2:12 am PDT / 5:12 am EDT (09:12:37 UTC).
— Sun trine Pholus at 7:55 pm PDT / 10:55 pm EDT (02:54:47 Aug. 19 UTC).
— Venus trine Borasisi at 8:56 pm PDT / 11:56 pm EDT (03:56:00 Aug. 19 UTC).
Subscribe to Planet Waves — sign up here | Visit Our Website at this link
If Your Birthday is Aug. 18
(The Day of Endurance) | Leo Birthday Reading | All Other Signs
Do what so few people do in these times, which is feed your inner life. There's a world within you that's not visible or accessible anyplace else. You might think it's lonely in there, though when you open up to your inner world, you'll find that you are closer to people than you've ever been. There will be what feels like a moment of free-fall; then your parachute will open.
Written in the Planets
With the Sun in Leo trine the centaur planet Pholus in Sagittarius today, even the tiniest spark has the potential to burn brightly for a good while to come. So choose carefully the flames you fan. While it's true that Pholus is often associated with a small cause leading to an unwanted (and far-reaching) negative effect, who says you can't harness that power to serve the highest good? This is about more than simply having good intentions; everyone knows where those can lead. It's about striking the match of ethical compassion, generosity and creativity. Or, even more simply: since we're approaching a major eclipse, it's about doing even a little of what brings you true joy, and letting it continue to light your soul going forward.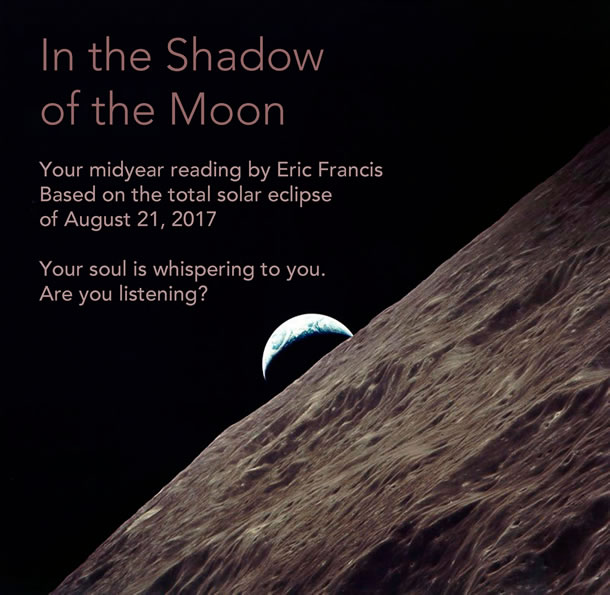 In the Shadow of the Moon, the exciting 2017 Midyear Reading by Eric Francis, has just been published. The video readings for all 12 signs cover the Great American Eclipse of Aug. 21 and well beyond. We'll be increasing the price again very soon, so don't hesitate to
order your copy here
. You can also now choose your
individual signs here
.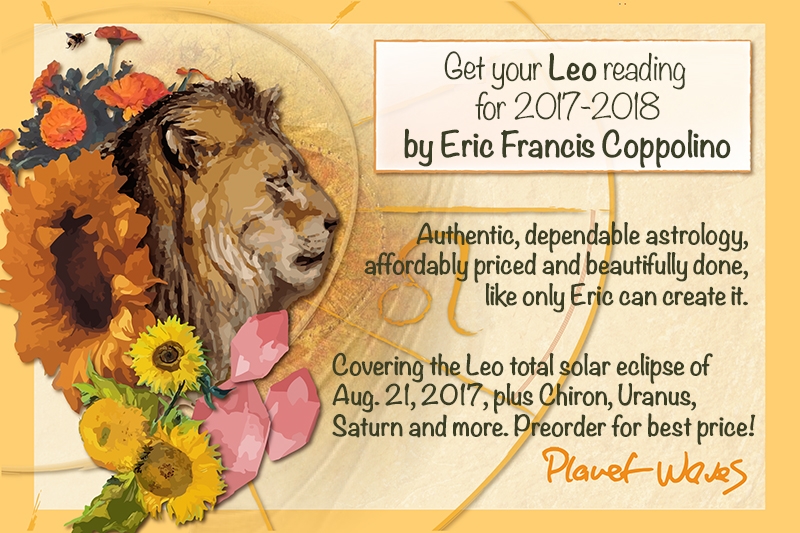 To the Leo Eclipse and Beyond!
On Aug. 21, a total solar eclipse in Leo signals the second stage of whatever life-shifting process you're engaged with.
This is a unique year for you, Leo. In addition to the current eclipses (and the double New Moons in your sign), your birthday reading will cover such astrological heavyweights as Chiron finishing up its journey through your 8th house; ever-surprising Uranus; and Saturn leaving your fellow fire sign, Sagittarius — plus more.
Are you navigating changes in your relationships or family paradigm? Do you find yourself at a career crossroads? Are you seeking clarity, encouragement and new perspectives on your creativity, self-esteem, sexuality or healing process? You'll find ideas and reassurance in this reading.
"I have just listened to your Part 1 and Part 2 readings and I am amazed at how accurate it has been. Like you have a telescope watching me shed a skin and transform into a totally changed person in the last 10 years."
– Pauline Jones
Your reading is now priced at $44; so you'll want to order your 2017 Leo Reading very soon. This reading is designed to work for anyone with Leo Sun, Leo rising and even Leo Moon — and makes an amazing gift.