The Only Thing Missing From This Almanac Is Your Daily Horoscope
Every day, you read the Four Winds report, to get a sense of the current energies. There's just one thing missing — your daily horoscope. Written for you, every day of the week, your Planet Waves daily horoscope is designed to give you the clue you need, that little edge to make your life go smoother.
One well-placed line from an astrologer can make all the difference in your life. We now have two editions of the Four Winds Report — one with, and one without your daily reading. You may be one of the readers who wait for years for me to offer you this — and now you can have it. Horoscope Lover membership gets you direct mailing of each day's reading, plus the weekly reading on Sunday night, and the monthly reading the last Thursday of the month. Sign up at this link.
with love,


Today is Thursday, Aug. 17, 2017
Hebrew date is 25 Av 5777
Islamic date is 25 Zul-Qi'dah 1438
Mayan Tzolk'in Day is 1 Ajaw
Mayan Long Count is 13.0.4.13.0
Julian Day is 2457983
Today's Birthdays: Gene Stratton-Porter (1863-1924), Marcus Garvey (1887-1940), Mae West (1893-1980), Lida Moser (1920-2014), Maureen O'Hara (1920), Larry Rivers (1923-2002), Duke Pearson (1932), Robert De Niro (1943), Rachel Pollack (1945), Julian Fellowes (1949), Herta Muller (1953), Laurence Overmire (1957), Belinda Carlisle (1958), Sean Penn (1960), Maria McKee (1964), Kelvin Mercer (1969), Thierry Henry (1977), Lene Marlin (1980).
"Violence cannot destroy the body of the Goddess, for Her body is the world itself."
— Rachel Pollack
Cheryl Corson | The melting pot that never existed is boiling over
Guest writer Cheryl Corson, a long-term friend of Planet Waves, offers her take on the weekend's horrifying events in Charlottesville, VA. As a Jew whose great grandparents were murdered by the Nazis, she has plenty of pertinent comments on the recent white supremacist march, which culminated in the murder of a young anti-fascist activist and caused many to fear what might happen next. Cheryl reflects on what Charlottesville says about the rest of the nation.
Moon Phase: Moon is in Last Quarter phase and enters Balsamic (waning crescent) phase on Aug. 18 at 2:50 am PDT / 5:50 am EDT (09:50:22 UTC).
Next New Moon is in Leo on Aug. 21 at 11:30 am PDT / 2:30 pm EDT (18:30:06 UTC).
Next Full Moon is in Pisces on Sep. 6 at 12:03 am PDT / 3:03 am EDT (07:02:43 UTC).
Moon Sign: Moon is in Gemini and enters Cancer today at 9:13 am PDT / 12:13 pm EDT (16:12:53 UTC).
Sun Degree: 25-26 Leo.
Planetary Stations and Sign Changes
Moon enters Cancer at 9:13 am PDT / 12:13 pm EDT (16:12:53 UTC).
Interesting Selected Aspects | Data by Serennu
— Vesta square Great Attractor at 10:35 pm Aug. 16 PDT / 1:35 am EDT (05:35:15 UTC).
— Venus square Jupiter at 11:39 pm Aug. 16 PDT / 2:39 am EDT (06:39:34 UTC).
— Sun sesquiquadrate Chariklo at 1:10 am PDT / 4:10 am EDT (08:09:48 UTC).
Subscribe to Planet Waves — sign up here | Visit Our Website at this link
If Your Birthday is Aug. 17
(The Day of Explosive Power) | Leo Birthday Reading | All Other Signs
Play as if you have all the luck in the world, especially when initiating new projects or new directions. Push into the unfamiliar like you've been there before many times. If you are called to master a certain skill, proceed like it's a refresher course, though slowly and meticulously. You know more than you think, as long as you maintain awareness of where you are.
Written in the Planets
Amid the present social turmoil, it's easy to feel frustration and helplessness. However, aspects today from Venus and Vesta offer a reminder that as long as you encounter other people, there are always choices. You can choose to love or hate; to offer kindness or withhold it; to do what is right or what is easy (in the approximate words of J.K. Rowling). The decisions of ordinary life are often small and simple, but each tips the scale — even if by a minuscule amount. That's the power you possess, and it's more significant than you think.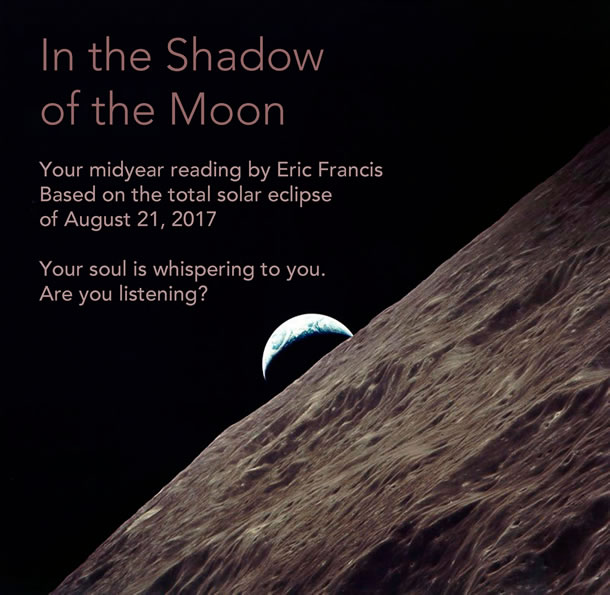 In the Shadow of the Moon, the exciting 2017 Midyear Reading by Eric Francis, has just been published. The video readings for all 12 signs cover the Great American Eclipse of Aug. 21 and well beyond. We'll be increasing the price again very soon, so don't hesitate to
order your copy here
. You can also now choose your
individual signs here
.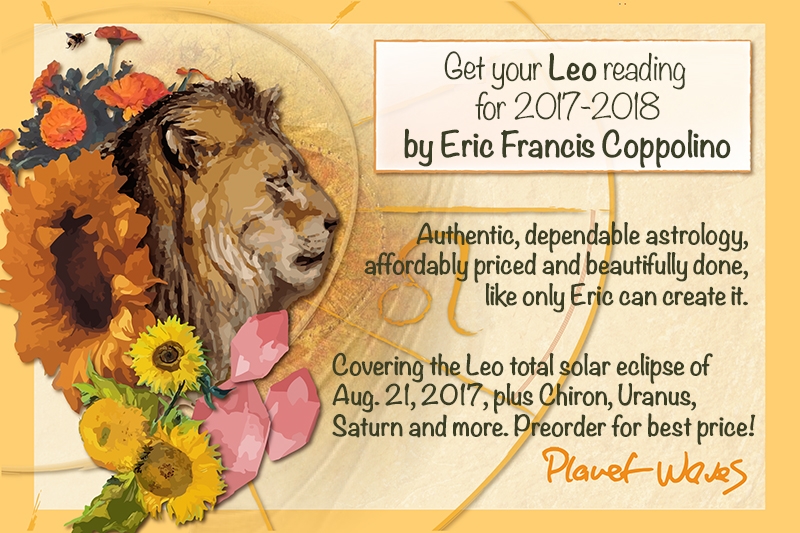 To the Leo Eclipse and Beyond!
On Aug. 21, a total solar eclipse in Leo signals the second stage of whatever life-shifting process you're engaged with.
This is a unique year for you, Leo. In addition to the current eclipses (and the double New Moons in your sign), your birthday reading will cover such astrological heavyweights as Chiron finishing up its journey through your 8th house; ever-surprising Uranus; and Saturn leaving your fellow fire sign, Sagittarius — plus more.
Are you navigating changes in your relationships or family paradigm? Do you find yourself at a career crossroads? Are you seeking clarity, encouragement and new perspectives on your creativity, self-esteem, sexuality or healing process? You'll find ideas and reassurance in this reading.
"I have just listened to your Part 1 and Part 2 readings and I am amazed at how accurate it has been. Like you have a telescope watching me shed a skin and transform into a totally changed person in the last 10 years."
– Pauline Jones
Your reading is now priced at $44; so you'll want to order your 2017 Leo Reading very soon. This reading is designed to work for anyone with Leo Sun, Leo rising and even Leo Moon — and makes an amazing gift.