The Only Thing Missing From This Almanac Is Your Daily Horoscope
Every day, you read the Four Winds report, to get a sense of the current energies. There's just one thing missing — your daily horoscope. Written for you, every day of the week, your Planet Waves daily horoscope is designed to give you the clue you need, that little edge to make your life go smoother.
One well-placed line from an astrologer can make all the difference in your life. We now have two editions of the Four Winds Report — one with, and one without your daily reading. You may be one of the readers who wait for years for me to offer you this — and now you can have it. Horoscope Lover membership gets you direct mailing of each day's reading, plus the weekly reading on Sunday night, and the monthly reading the last Thursday of the month. Sign up at this link.
with love,


Today is Sunday, Aug. 13, 2017
Hebrew date is 21 Av 5777
Islamic date is 21 Zul-Qi'dah 1438
Mayan Tzolk'in Day is 10 k'ib'
Mayan Long Count is 13.0.4.12.17
Julian Day is 2457979
Today's Birthdays: Rasmus Bartholin (1625-1698), Annie Oakley (1860-1926), Richard Willstatter (1872-1942), John Logie Baird (1888-1946), Alfred Hitchcock (1899-1980), Grace Bates (1914-1996), Benny Bailey (1925-2005), Jocelyn Elders (1933), Madhur Jaffrey (1933), Kathleen Battle (1948), Philippe Petit (1949), Feargal Sharkey (1958), John Slattery (1962), Debi Mazar (1964), Kalenna Harper (1982), Eme Ikwuakor (1984), James Morrison (1984).
"Television is like the invention of indoor plumbing. It didn't change people's habits. It just kept them inside the house."
— Alfred Hitchcock
Len Wallick | Re: the Mercury Retrograde
The Mercury retrograde that initiated in Virgo yesterday won't be an isolated incident, thanks to the total solar eclipse taking place on Aug. 21. Today, Len Wallick outlines other factors that will give you a leg up on what would otherwise be some complicated astrology. At least one key will begin with 're-'.
Moon Phase: Moon is in Disseminating (waning gibbous) phase and enters Last Quarter phase on Aug. 14-15 at 6:15 pm PDT / 9:15 pm EDT (01:14:59 UTC).
Next New Moon is in Leo on Aug. 21 at 11:30 am PDT / 2:30 pm EDT (18:30:06 UTC).
Next Full Moon is in Pisces on Sep. 6 at 12:03 am PDT / 3:03 am EDT (07:02:43 UTC).
Moon Sign: Moon is in Aries and enters Taurus today at 3:39 am PDT / 6:39 am EDT (10:39:38 UTC).
Sun Degree: 21-22 Leo.
Planetary Stations and Sign Changes
Moon enters Taurus at 3:39 am PDT / 6:39 am EDT (10:39:38 UTC).
Interesting Selected Aspects | Data by Serennu
— Mercury trine Pallas at 8:54 am PDT / 11:54 am EDT (15:54:20 UTC).
— Sun trine Saturn at 2:06 pm PDT / 5:06 pm EDT (21:06:22 UTC).
— Vesta square Altjira at 2:35 pm PDT / 5:35 pm EDT (21:35:24 UTC).
— Rhiphonos square Huya at 8:21 pm PDT / 11:21 pm EDT (03:21:10 Aug. 14 UTC).
Subscribe to Planet Waves — sign up here | Visit Our Website at this link
If Your Birthday is Aug. 13
(The Day of Long Odds) | Leo Birthday Reading | All Other Signs
Cut back expenses and emphasize only your most important priorities. Remember that your time and your attention are two of your most meaningful resources, and it's essential that you use them wisely. You can reduce your spending significantly, which will teach you how to be more efficient. If you focus on necessities, you will have plenty left over.
Written in the Planets
Aspects involving Mercury and the Sun today are likely to support the application of reason. Just now, this is not only useful but necessary. Eric wrote in Thursday's full Planet Waves edition how the ability to reason is adversely affected by technology both overwhelming our minds with information and acting as an artificial memory. This Mercury retrograde period might be a useful time for you to reflect on, among other things, the way your gadgets have changed your life, and precisely how far you're willing to allow them to encroach. Remember that boundaries are most effective when you draw a solid line, and enforce it consciously and consistently.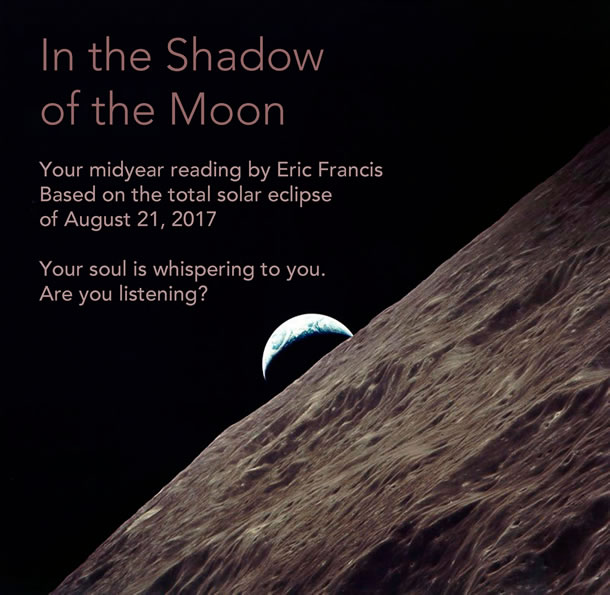 In the Shadow of the Moon, the exciting 2017 Midyear Reading by Eric Francis, has just been published. The video readings for all 12 signs cover the Great American Eclipse of Aug. 21 and well beyond. We'll be increasing the price again very soon, so don't hesitate to
order your copy here
. You can also now choose your
individual signs here
.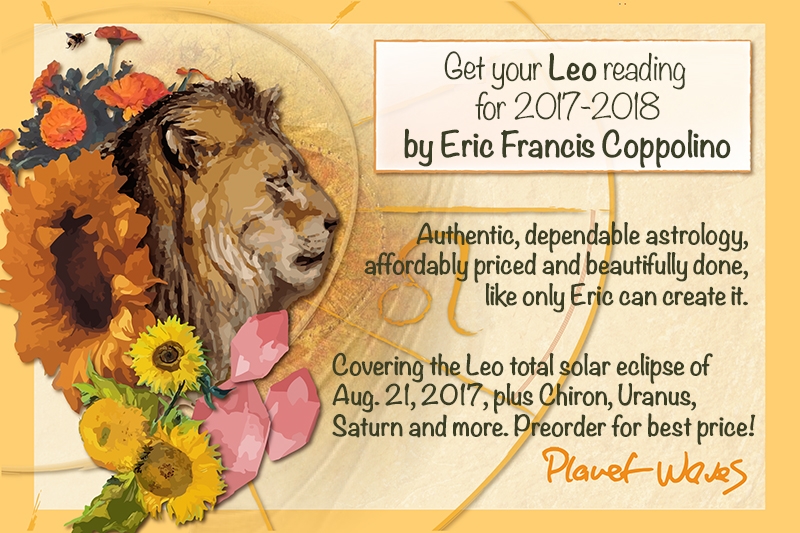 To the Leo Eclipse and Beyond!
In just over two weeks, on Aug. 21, a total solar eclipse in Leo signals the second stage of whatever life-shifting process you're engaged with.
This is a unique year for you, Leo. In addition to the current eclipses (and the double New Moons in your sign), your birthday reading will cover such astrological heavyweights as Chiron finishing up its journey through your 8th house; ever-surprising Uranus; and Saturn leaving your fellow fire sign, Sagittarius — plus more.
Are you navigating changes in your relationships or family paradigm? Do you find yourself at a career crossroads? Are you seeking clarity, encouragement and new perspectives on your creativity, self-esteem, sexuality or healing process? You'll find ideas and reassurance in this reading.
"I have just listened to your Part 1 and Part 2 readings and I am amazed at how accurate it has been. Like you have a telescope watching me shed a skin and transform into a totally changed person in the last 10 years."
– Pauline Jones
Your reading is now priced at $44; so you'll want to order your 2017 Leo Reading very soon. This reading is designed to work for anyone with Leo Sun, Leo rising and even Leo Moon — and makes an amazing gift.