The Only Thing Missing From This Almanac Is Your Daily Horoscope
Every day, you read the Four Winds report, to get a sense of the current energies. There's just one thing missing — your daily horoscope. Written for you, every day of the week, your Planet Waves daily horoscope is designed to give you the clue you need, that little edge to make your life go smoother.
One well-placed line from an astrologer can make all the difference in your life. We now have two editions of the Four Winds Report — one with, and one without your daily reading. You may be one of the readers who wait for years for me to offer you this — and now you can have it. Horoscope Lover membership gets you direct mailing of each day's reading, plus the weekly reading on Sunday night, and the monthly reading the last Thursday of the month. Sign up at this link.
with love,


Today is Saturday, Aug. 12, 2017
Hebrew date is 20 Av 5777
Islamic date is 20 Zul-Qi'dah 1438
Mayan Tzolk'in Day is 9 Men
Mayan Long Count is 13.0.4.12.15
Julian Day is 2457978
Today's Birthdays: Robert Southey (1774-1843), Helena Blavatsky (181-1891), Katharine Lee Bates (1859-1929), Edith Hamilton (1867-1963), Mary Roberts Rinehart (1876-1958), Radclyffe Hall (1880-1943),
Cecil B. DeMille (1881-1959), Erwin Schrodinger (1887-1961), Zerna Sharp (1889-1981), Jane Wyatt (1910), Donald Justice (1925-2004), Buck Owens (1929-2006), William Goldman (1931), Walter Dean Myers (1937-2014), George Hamilton (1939), Mark Knopfler (1949), Rick Ridgeway (1949), Pat Metheny (1954), Sir Mix-a-Lot (1963), Katherine Boo (1964), Yvette Nicole Brown (1971), Pete Sampras (1971), Cara Delevingne (1992).
"There are few efforts more conducive to humility than that of the translator trying to communicate an incommunicable beauty. Yet, unless we do try, something unique and never surpassed will cease to exist, except in the libraries of a few inquisitive book lovers."
— Edith Hamilton
Planet Waves Daily Oracle for Aug. 12, 2017
The current astrology means adventure. If you can't get on an airplane or the Space Shuttle, try taking a road trip of at least two hours and one overnight. You may be busy, but this will help you focus your ideas and clear your head. If you think a kid is holding you back, take the kid along too. What you need is movement, the expansion of your geographic horizons, which will key right into the expansion of your psychological horizons. I guess in a pinch, getting together with some good friends and tripping will suffice. But after a rather close and stuffy experience of someone or something the past few weeks, you really seem to need some fresh air and the sound of tires humming beneath your feet.
The Oracle is a daily mini-reading divined from our extensive Horoscope Archive. You can research any Planet Waves horoscope published since 1999 at the Horoscope Archive and Oracle.
Moon Phase: Moon is in Disseminating (waning gibbous) phase and enters Last Quarter phase on Aug. 14-15 at 6:15 pm PDT / 9:15 pm EDT (01:14:59 UTC).
Next New Moon is in Leo on Aug. 21 at 11:30 am PDT / 2:30 pm EDT (18:30:06 UTC).
Next Full Moon is in Pisces on Sep. 6 at 12:03 am PDT / 3:03 am EDT (07:02:43 UTC).
Moon Sign: Moon is in Aries and enters Taurus on Aug. 13 at 3:39 am PDT / 6:39 am EDT (10:39:38 UTC).
Sun Degree: 20-21 Leo.
Planetary Stations and Sign Changes
Pelion stations retrograde at 4:08 am PDT / 7:08 am EDT (11:07:54 UTC).
Mercury stations retrograde at 6:00 am PDT / 9:00 am EDT (01:00:26 Aug. 13 UTC).
Interesting Selected Aspects | Data by Serennu
— Venus trine Neptune at 10:17 pm Aug. 11 PDT / 1:17 am EDT (05:17:12 UTC).
— Venus conjunct Ceres at 10:58 pm Aug. 11 PDT / 1:58 am EDT (05:57:46 UTC).
— Sun conjunct Sila-Nunam at 9:17 am PDT / 12:17 pm EDT (16:16:59 UTC).
— Uranus opposite Typhon at 7:03 pm PDT / 10:03 pm EDT (02:03:00 Aug. 13 UTC).
Subscribe to Planet Waves — sign up here | Visit Our Website at this link
If Your Birthday is Aug. 12
(The Day of Convention) | Leo Birthday Reading | All Other Signs
Let your momentum carry you. You don't need to push so hard. All you need is to guide your life by making clear and honest decisions that are based on what you know you want. Once you can do that, events will carry you swiftly in the direction you want to travel. Yet honesty is key, particularly with close partners who might be affected by your decisions.
Written in the Planets
Mercury stations retrograde today in Virgo for about three weeks. You know the drill: double-check emails (and their addresses) before you click 'send'; if you think someone's ignoring your texts or emails, pick up the phone and call before you go nuclear; pay attention to what you're doing (especially while driving); and do your best to have a Plan B and leave extra time for everything. Take a deep breath; you're gonna be okay! Venus in Cancer is making such lovely aspects to Ceres and Neptune, compassion is likely to come naturally and be quite nourishing. Remember to offer some to yourself as well as to others, and to receive it graciously. Compassion may even come in the form of food; never underestimate how difficult it is to think straight on an empty stomach.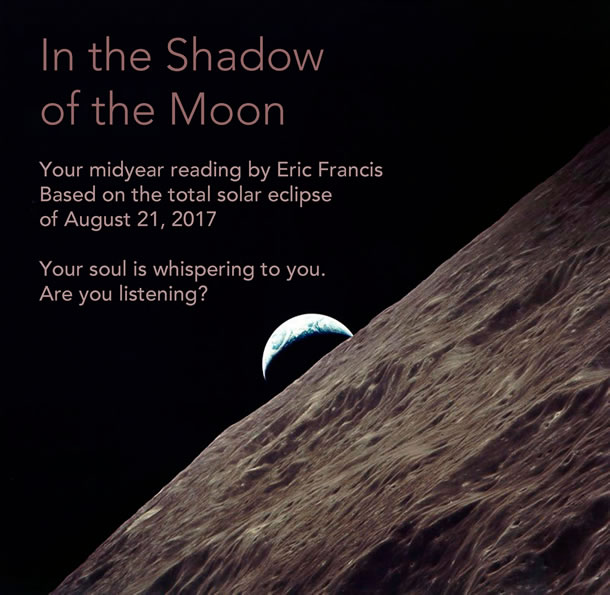 In the Shadow of the Moon, the exciting 2017 Midyear Reading by Eric Francis, has just been published. The video readings for all 12 signs cover the Great American Eclipse of Aug. 21 and well beyond. We'll be increasing the price again very soon, so don't hesitate to
order your copy here
. You can also now choose your
individual signs here
.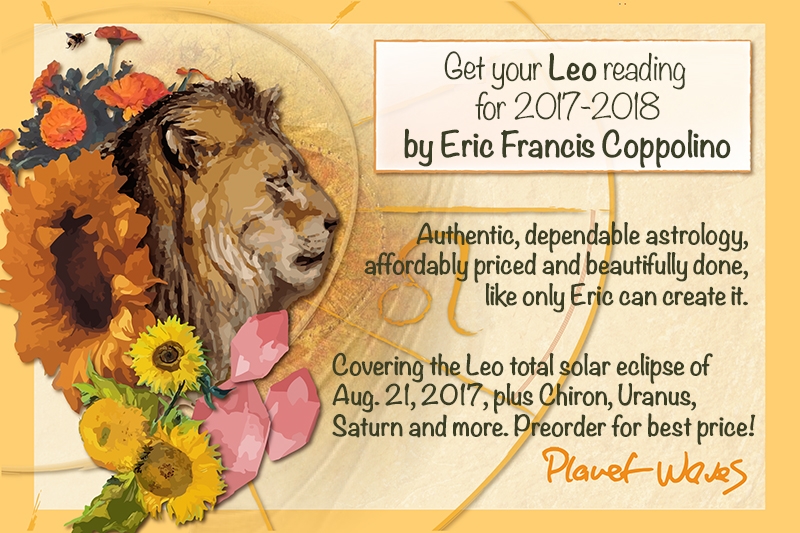 To the Leo Eclipse and Beyond!
In just over two weeks, on Aug. 21, a total solar eclipse in Leo signals the second stage of whatever life-shifting process you're engaged with.
This is a unique year for you, Leo. In addition to the current eclipses (and the double New Moons in your sign), Eric plans to discuss in your upcoming reading such astrological heavyweights as Chiron finishing up its journey through your 8th house; ever-surprising Uranus; and Saturn leaving your fellow fire sign, Sagittarius — plus more.
Are you navigating changes in your relationships or family paradigm? Do you find yourself at a career crossroads? Are you seeking clarity, encouragement and new perspectives on your creativity, self-esteem, sexuality or healing process? You'll find ideas and reassurance in this reading.
"I have just listened to your Part 1 and Part 2 readings and I am amazed at how accurate it has been. Like you have a telescope watching me shed a skin and transform into a totally changed person in the last 10 years."
– Pauline Jones
Your reading is now priced at $44; so you'll want to pre-order your 2017 Leo Reading very soon — definitely before it publishes, when the price is set to increase again. This reading is designed to work for anyone with Leo Sun, Leo rising and even Leo Moon — and makes an amazing gift.