The Only Thing Missing From This Almanac Is Your Daily Horoscope
Every day, you read the Four Winds report, to get a sense of the current energies. There's just one thing missing — your daily horoscope. Written for you, every day of the week, your Planet Waves daily horoscope is designed to give you the clue you need, that little edge to make your life go smoother.
One well-placed line from an astrologer can make all the difference in your life. We now have two editions of the Four Winds Report — one with, and one without your daily reading. You may be one of the readers who wait for years for me to offer you this — and now you can have it. Horoscope Lover membership gets you direct mailing of each day's reading, plus the weekly reading on Sunday night, and the monthly reading the last Thursday of the month. Sign up at this link.
with love,


Today is Friday, Aug. 11, 2017
Hebrew date is 19 Av 5777
Islamic date is 19 Zul-Qi'dah 1438
Mayan Tzolk'in Day is 8 Ix
Mayan Long Count is 13.0.4.12.14
Julian Day is 2457977
Today's Birthdays: Christiaan Eijkman (1858-1930), Stancho Belkovski (1891-1962), Edgar Zilsel (1891-1944), Eiji Yoshikawa (1892-1962), Louise Bogan (1897-1970), Angus Wilson (1913-1991), Aaron Klug (1926), Peter Eisenman (1932), Andre Dubus (1936-1999), Anna Massey (1937-2011), Ian McDiarmid (1944), Steve Wozniak (1950), Joe Jackson (1954), Richie Ramone (1957), Viola Davis (1965), Sophie Okonedo (1968), Ben Gibbard (1976), Pavel 183 (1983-2013).
"Stupidity always accompanies evil. Or evil, stupidity."
— Louise Bogan
---
Of Nuclear Bombs and Reasoning
Dear Friend and Reader:
Yesterday, I was poking around the pages of The Onion, when I found this article: Historians Admit To Inventing Ancient Greeks. It featured a photo of two scholarly-looking pundits, and began:
"WASHINGTON — A group of leading historians held a press conference Monday at the National Geographic Society to announce they had 'entirely fabricated' ancient Greece, a culture long thought to be the intellectual basis of Western civilization."
Without wasting a single moment, I posted this to Facebook. Andrew McLuhan, our resident media theorist, responded quickly: "I dunno…a little too on the nose to be funny?"
The article continued:
"The group acknowledged that the idea of a sophisticated, flourishing society existing in Greece more than two millennia ago was a complete fiction created by a team of some two dozen historians, anthropologists, and classicists who worked nonstop between 1971 and 1974 to forge 'Greek' documents and artifacts."
I thought it was so funny because it was kind of true: history is largely a fictional contrivance. Who really knows what was going on in 500 BC? Who told the current historians? Other historians! Who told them? Other historians! Who the heck knows what was really going on? It sounds like "turtles all the way down."
---
Moon Phase: Moon is in Full phase and enters Disseminating (waning gibbous) phase today at 5:39 am PDT / 8:39 am EDT (12:38:55 UTC).
Next New Moon is in Leo on Aug. 21 at 11:30 am PDT / 2:30 pm EDT (18:30:06 UTC).
Next Full Moon is in Pisces on Sep. 6 at 12:03 am PDT / 3:03 am EDT (07:02:43 UTC).
Moon Sign: Moon is in Aries and enters Taurus on Aug. 13 at 3:39 am PDT / 6:39 am EDT (10:39:38 UTC).
Sun Degree: 19-20 Leo.
Planetary Stations and Sign Changes
Huya stations direct at 10:00 pm Aug. 10 PDT / 1:00 am EDT (04:59:42 UTC).
Moon enters Aries at 10:22 pm Aug. 10 PDT / 2:22 am EDT (05:21:48 UTC).
Interesting Selected Aspects | Data by Serennu
— Mars trine Great Attractor at 7:47 am PDT / 10:47 am EDT (14:47:22 UTC).
— Mercury conjunct Vesta at 10:42 am PDT / 1:42 pm EDT (17:41:48 UTC).
— Mars square Mors-Somnus at 8:54 pm PDT / 11:54 pm EDT (03:53:41 Aug. 12 UTC).
Subscribe to Planet Waves — sign up here | Visit Our Website at this link
If Your Birthday is Aug. 11
(The Day of Validation) | Leo Birthday Reading | All Other Signs
One by one, remove the obstacles from your path — and don't put any new ones in your way. Habitually removing stumbling blocks from your path really is the key to happiness. Avoid needless delays, make no excuses, and remember that you cannot really sacrifice yourself for anyone. Your happiness and success will spill over into the lives around you.
Written in the Planets
On its way to stationing retrograde tomorrow, Mercury makes a conjunction to the asteroid Vesta in Virgo today. The themes of service, 'atypical' intimate relationships and holding space for transformation (especially sexual) are coming through. With Mercury slow and powerful right now, allow yourself to grasp the potential potency of these ideas in your life. Notice if you feel called to hold space for your own sexual healing — or that of another — in some way. Since Mercury is stormy, this calls for specificity in communication, and patience if anything goes off course in any part of your life. Look for the silver linings and inconvenient lessons.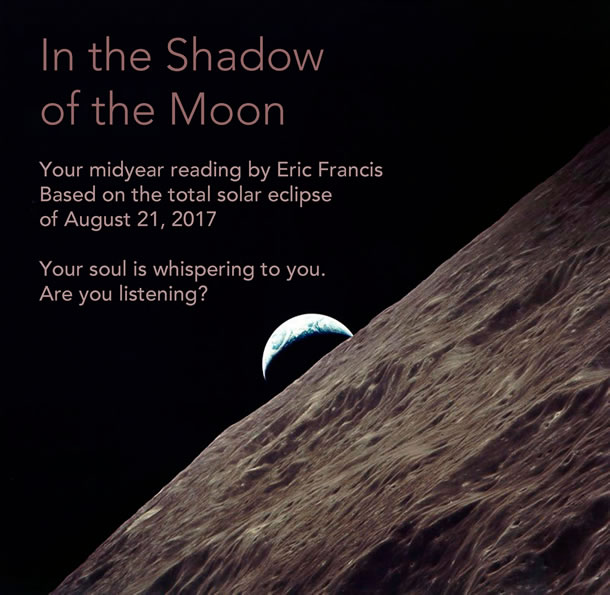 In the Shadow of the Moon, the exciting 2017 Midyear Reading by Eric Francis, has just been published. The video readings for all 12 signs cover the Great American Eclipse of Aug. 21 and well beyond. We'll be increasing the price again very soon, so don't hesitate to
order your copy here
. You can also now choose your
individual signs here
.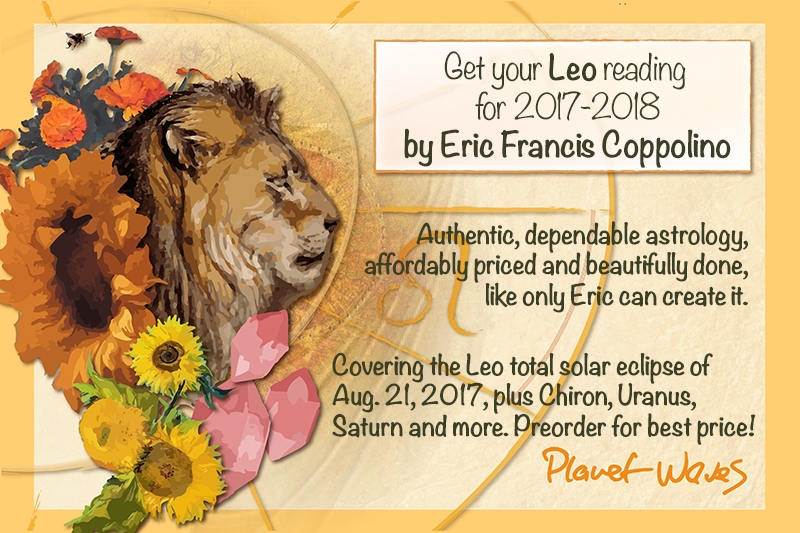 "I have just listened to your Part 1 and Part 2 readings and I am amazed at how accurate it has been. Like you have a telescope watching me shed a skin and transform into a totally changed person in the last 10 years."
— Pauline Jones
If you have a Leo Sun, rising sign or Moon, how are you feeling about your vision for your life, and in what ways are you ready to take action toward it? With a partial lunar eclipse on Monday in your opposite sign Aquarius (your relationship sign), the door opened to one stage of potential transition. On Aug. 21, a total solar eclipse in Leo signals the second stage of whatever life-shifting process you're engaged with.
The reverberations from these two eclipses will keep rippling out and developing through the next six to twelve months — and Eric's 2017-18 Leo Birthday Reading is designed to guide you through it all.
"The past few years have been very difficult on many levels and it has been the readings I get through you that keep me going. Always, absolutely right on, every one of them."
— Rhonda