The Only Thing Missing From This Almanac Is Your Daily Horoscope
Every day, you read the Four Winds report, to get a sense of the current energies. There's just one thing missing — your daily horoscope. Written for you, every day of the week, your Planet Waves daily horoscope is designed to give you the clue you need, that little edge to make your life go smoother.
One well-placed line from an astrologer can make all the difference in your life. We now have two editions of the Four Winds Report — one with, and one without your daily reading. You may be one of the readers who wait for years for me to offer you this — and now you can have it. Horoscope Lover membership gets you direct mailing of each day's reading, plus the weekly reading on Sunday night, and the monthly reading the last Thursday of the month. Sign up at this link.
with love,


Today is Thursday, Aug. 10, 2017
Hebrew date is 18 Av 5777
Islamic date is 18 Zul-Qi'dah 1438
Mayan Tzolk'in Day is 7 B'en
Mayan Long Count is 13.0.4.12.13
Julian Day is 2457976
Today's Birthdays: Abai Qunanbaiuli (1845-1904), Laurence Binyon (1869-1943), Jack Haley (1898-1979), Era Bell Thompson (1905-1986), Rica Erickson (1908-2009), Leo Fender (1909-1991), Margaret Morgan Lawrence (1914), Jimmy Dean (1928-2010), Eddie Fisher (1928-2010), Dolores Alexander (1931-2008), Kate O'Mara (1939-2014), Ronnie Spector (1943), Ian Anderson (1947), Patti Austin (1950), Antonio Banderas (1960), Suzanne Collins (1962), Claudia Christian (1965), Sean Blakemore (1967), Justin Theroux (1971).
"Until that time I had always felt like a weirdo, the only person who felt out of step with the world around her. I knew we needed a women's movement. This is what I had been waiting for."
— Dolores Alexander
Len Wallick | The Father, The Sun, and the Family Ghost
Gather 'round the campfire, scouts. Len Wallick has some shaggy dog stories to share tonight before you trundle off to your sleeping bags. Actually, some of the stories will be historically accurate, and possibly all the more interesting because of that. It all begins with Monday's lunar eclipse…
Moon Phase: Moon is in Full phase and enters Disseminating (waning gibbous) phase on Aug. 11 at 5:39 am PDT / 8:39 am EDT (12:38:55 UTC).
Next New Moon is in Leo on Aug. 21 at 11:30 am PDT / 2:30 pm EDT (18:30:06 UTC).
Next Full Moon is in Pisces on Sep. 6 at 12:03 am PDT / 3:03 am EDT (07:02:43 UTC).
Moon Sign: Moon is in Pisces and enters Aries tonight at 10:22 pm PDT / 2:22 am Aug. 11 EDT (05:21:48 UTC).
Sun Degree: 18-19 Leo.
Planetary Stations and Sign Changes
No changes today.
Interesting Selected Aspects | Data by Serennu
— Mercury sextile Venus at 2:03 am PDT / 5:03 am EDT (09:02:52 UTC).
— Eros conjunct Psyche at 7:20 am PDT / 10:20 am EDT (14:20:35 UTC).
— Pallas trine Vesta at 12:41 pm PDT / 3:41 pm EDT (19:40:43 UTC).
— Sun sextile Jupiter at 2:24 pm PDT / 5:24 pm EDT (21:24:08 UTC).
— Sun square Ceto at 3:51 pm PDT / 6:51 pm EDT (22:51:20 UTC).
Subscribe to Planet Waves — sign up here | Visit Our Website at this link
If Your Birthday is Aug. 10
(The Day of the Velvet Voice) | Leo Birthday Reading | All Other Signs
Don't fall for the trap that others are standing in the way of your dreams. They are not, as long as you don't give them that role. You will build the life you want by applying your imagination, mixed with discipline and a touch of flexibility. It's time for you to design the life you want, so don't let your current attachments or anxieties get in the way.
Written in the Planets
Given the current state of the world, it wouldn't be at all surprising if you're feeling a little nervous. However, the state of the sky today is much more pleasant, including Mercury sextile Venus and the Sun sextile Jupiter, among other aspects. All this points to a possible way to channel your fears into something constructive. As our friend Amanda Moreno recently pointed out, "Prayers for peace, calm, level headedness, objectivity…or making a point of hugging a friend, wishing a stranger kindness and health, planting a damn tree or basil plant…your efforts ripple out." Send ripples of love today.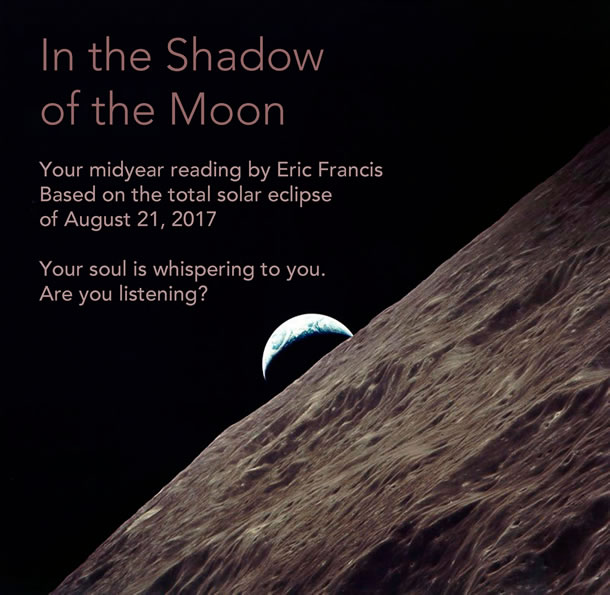 In the Shadow of the Moon, the exciting 2017 Midyear Reading by Eric Francis, has just been published. The video readings for all 12 signs cover the Great American Eclipse of Aug. 21 and well beyond. We'll be increasing the price again very soon, so don't hesitate to
order your copy here
. You can also now choose your
individual signs here
.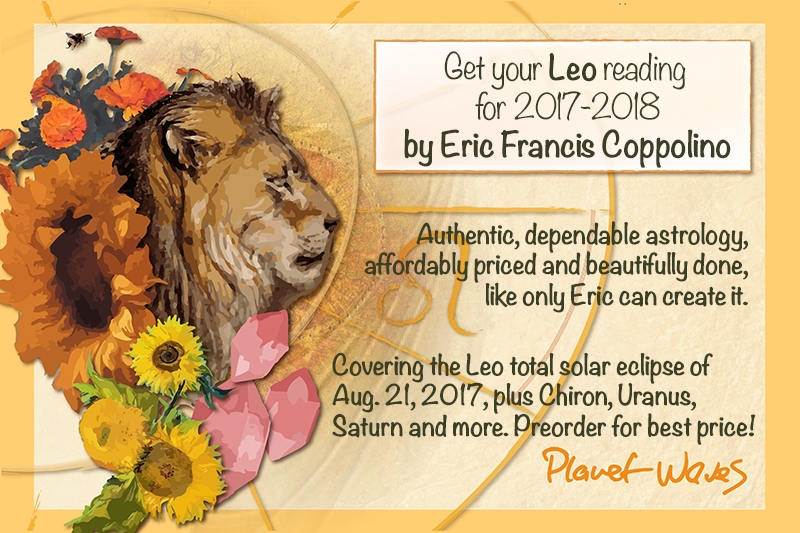 "I have just listened to your Part 1 and Part 2 readings and I am amazed at how accurate it has been. Like you have a telescope watching me shed a skin and transform into a totally changed person in the last 10 years."
— Pauline Jones
If you have a Leo Sun, rising sign or Moon, how are you feeling about your vision for your life, and in what ways are you ready to take action toward it? With a partial lunar eclipse on Monday in your opposite sign Aquarius (your relationship sign), the door opened to one stage of potential transition. On Aug. 21, a total solar eclipse in Leo signals the second stage of whatever life-shifting process you're engaged with.
The reverberations from these two eclipses will keep rippling out and developing through the next six to twelve months — and Eric's 2017-18 Leo Birthday Reading is designed to guide you through it all.
"The past few years have been very difficult on many levels and it has been the readings I get through you that keep me going. Always, absolutely right on, every one of them."
— Rhonda