The Only Thing Missing From This Almanac Is Your Daily Horoscope
Every day, you read the Four Winds report, to get a sense of the current energies. There's just one thing missing — your daily horoscope. Written for you, every day of the week, your Planet Waves daily horoscope is designed to give you the clue you need, that little edge to make your life go smoother.
One well-placed line from an astrologer can make all the difference in your life. We now have two editions of the Four Winds Report — one with, and one without your daily reading. You may be one of the readers who wait for years for me to offer you this — and now you can have it. Horoscope Lover membership gets you direct mailing of each day's reading, plus the weekly reading on Sunday night, and the monthly reading the last Thursday of the month. Sign up at this link.
with love,


Today is Tuesday, Aug. 1, 2017
Hebrew date is 9 Av 5777
Islamic date is 9 Zul-Qi'dah 1438
Mayan Tzolk'in Day is 11 K'an
Mayan Long Count is 13.0.4.12.4
Julian Day is 2457967
Today's Birthdays: Luis Velez de Guevara (1579-1644), Francis Scott Key (1779-1843), Herman Melville (1819-1891), Antonio Cotogni (1831-1918), Paul Horgan (1903-1995), Eric Shipton (1907-1977), Jackie Ormes (1911-1985), Jack Delano (1914-1997), Dom DeLuise (1933-2009), Jerry Garcia (1942-1995), Lorna Goodison (1947), Chuck D (1960), Coolio (1963), Montserrat Lombard (1982), Elijah Kelley (1986).
"Truth is ever incoherent, and when the big hearts strike together, the concussion is a little stunning."
— Herman Melville
Moon Phase: Moon is in First Quarter phase and enters Waxing Gibbous phase on Aug. 3 at 10:42 am PDT / 1:42 pm EDT (17:42:00 UTC).
Next Full Moon is in Aquarius on Aug. 7 at 11:10 am PDT / 2:10 pm EDT (18:10:33 UTC).
Next New Moon is in Leo on Aug. 21 at 11:30 am PDT / 2:30 pm EDT (18:30:06 UTC).
Moon Sign: Moon is in Scorpio and enters Sagittarius today at 5:01 am PDT / 8:01 am EDT (12:01:12 UTC).
Sun Degree: 10-11 Leo.
Planetary Stations and Sign Changes
Ceto stations direct at 2:13 am PDT / 5:13 am EDT (09:13:21 UTC).
Moon enters Sagittarius at 5:01 am PDT / 8:01 am EDT (12:01:12 UTC).
Interesting Selected Aspects | Data by Serennu
— Sun square Pallas at 12:10 am PDT / 3:10 am EDT (07:09:44 UTC).
— Vesta opposite Nessus at 7:31 am PDT / 10:31 am EDT (14:30:50 UTC).
— Venus square Elatus at 11:28 am PDT / 2:28 pm EDT (18:28:35 UTC).
— Mercury opposite Nessus at 2:06 pm PDT / 5:06 pm EDT (21:06:12 UTC).
— Mars square Pelion at 2:39 pm PDT / 5:39 pm EDT (21:39:17 UTC).
This Week's Horoscope for Leo by Eric Francis Coppolino
The spotlight is on Leo now, with Mars and the Sun streaking across the sky, and two eclipses soon to arrive between today and Aug. 21. This means your life is in transition; and if that is true, then it's essential that you stay in contact with what you want. Mars, the planet of desire, will help you focus your goals, and erase any guilt or apprehension you may be feeling about being authentically bold. To live the way you want requires courage, on several different levels. Most people are easily given to living with difficult situations rather than taking the chance of changing them. Yet because you have so much energy (Mars and the Sun are both hot and fiery), it's essential to dial in the power of Saturn. This is about discipline, careful timing and using structure to your advantage. Incremental changes are the right changes, at least for now.
You may read all 12 signs here.
Subscribe to Planet Waves — sign up here | Visit Our Website at this link
If Your Birthday is Aug. 1
(The Day of Original Style) | Leo Birthday Reading | All Other Signs
You need adventure in your life. Yes, you may be hesitating, though at least your idea of doing something bold exceeds downloading a new app. For you, it's more like visiting a new country, or trying some form of art that you've never experimented with before. And certainly you need friends and lovers who crave the unknown as much as you do.
Written in the Planets
Does your way of expressing yourself (or even your leadership style) suddenly feel like it's at odds with something you've been patiently, persistently planning and working toward? Today the Leo Sun squares the asteroid Pallas in Taurus. With these planets in fixed signs, you'll have to remember to bring a little flexibility to your actions — and reactions — today. Whether any challenges come from others or from within yourself, remember to listen carefully. This is a time of testing; you can be bold, remembering that a small adjustment to your strategy now could mitigate resistance later.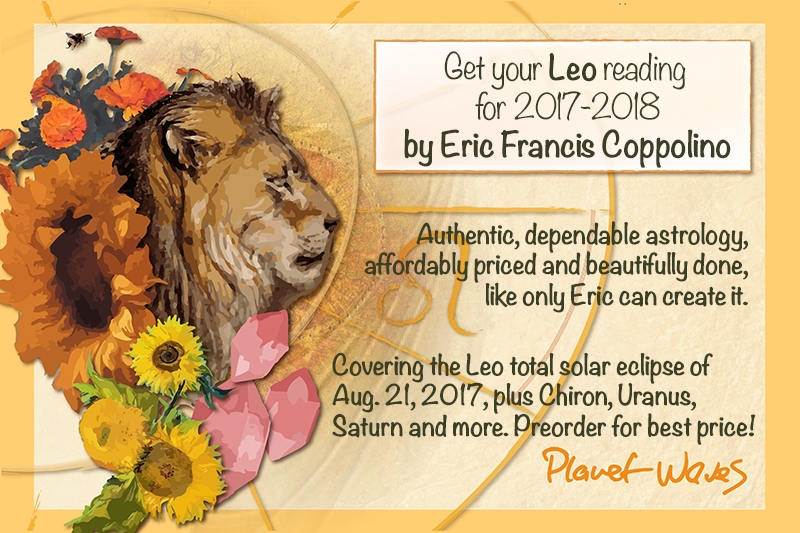 "Ah Eric — just listened to your reading. I was moved to tears by your closing words. Your passion, deep care and love always shine through; and you have the gift of all great teachers, of making one feel that one is being personally addressed, respected and taken care of."
— Liz Glanville
This is a seminal year for Leo Sun, rising and Moon, with two New Moons in your sign, the second one a potent solar eclipse. All the more reason to take hold of the reins and steer this dynamic energy in the direction that works for you.
Your 2017-18 Leo Birthday Reading by Eric Francis will be exactly the support you need to navigate through these exciting transits. It's now available for pre-order at the lowest price of just $33, so be sure to grab a copy — whether for yourself or the Leo you love — before that increases.
"Thanks for reassuring this Leo, who is having a year 'for the books'! You get to the core of things."
— Barbara Peaslee, on a previous Leo reading