Today's reality was but one of many possibilities a year ago. The closer we got to today, the more the possibilities narrowed down, until one reality emerged. Whether you know or want to admit it, you participated in the process. On the whole, it's more empowering to participate with awareness.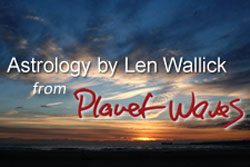 Properly employed, astrology contributes to your consciousness awareness, and thus to your empowerment. In fact, one big picture implication of the astrology going on now is that there has seldom been any time like the present to stand in your power to influence the process of emergence.
Broadly speaking, next year's reality will probably emerge in two ways. The first way will result from relatively small groups of like-minded people working in passionate cooperation to produce a reality which is greater than the sum of its parts.
Another way the reality of the near future will be determined is by individuals of conscience emerging from the background of the group to set an example for others to follow (or not). You could be one of those conscientious individuals if you have the courage to think for yourself, if and/or when all about you become somehow thought-less. It may also be your cue to emerge from the herd if and/or when the values you hold most dear get trampled by some form of stampede.
Among other things, Mercury represents thought and Venus correlates with values. Even now, Mercury is emerging from a relatively long period on the other side of the Sun to become visible in the West. Now that its long tenure in the pre-dawn sky is coming to a close, Venus is soon to follow in Mercury's footsteps. Both Venus and Mercury are also moving relatively fast for the time being.
Implicitly, then, the near future is even now beginning to emerge in the minds of those who can first think independently and then follow up by remaining true to themselves. You can be one of those people, but not by being a mindless follower. You will need to practice some critical thinking, but not for the purpose of criticizing others. Rather, with the objective of carefully examining your own thoughts and values to sort what is truly yours from the hand-me downs which keep the real you from emerging in the world.
Two (or more) heads, however, are nearly always better than one. The one single factor that allowed human beings to emerge from our tentative origins is an unmatched proficiency for cooperation in depth. History's most fruitful and significant collaborations have emerged when people of like mind and values collaborate with both passion and a commonly defined conscious objective.
Among other things, Mars represents passion and Saturn corresponds with definition. Interestingly, Earth is now the process of moving between both Mars and Saturn, and the Sun, which (among other things) correlates with consciousness.
Currently, the motion of the Earth with Mars and Saturn on the outside and the Sun inside/center is resulting in retrogrades for both Saturn (starting last week) and Mars (starting in about three weeks). Additionally, those retrogrades will culminate in oppositions (exact alignments) from the Sun to both Mars and Saturn (with Earth in between) between late May and early June. In other words, there is time to align yourself.
Implicitly, there is time for you to apply some critical thinking to your thinking, although Mercury's impending re-appearance on a new horizon indicates that should be your first priority. There is also even more time to figure out what matters most to you so that you will know if and/or when to draw the line with any group with whom you do share a like mind.
Additionally, there is plenty of time to pool your mind with other like thinkers, and follow up by collaborating with the passion necessary to get anything actually done. Finally there will at least five months (the length of Saturn's retrograde), and probably more for you and your collaborators to begin manifesting next year's reality in your own collective image.
Time therefore is not an issue. Nothing needs to be done tomorrow. The issue is whether you will avail yourself of the awareness the sky is offering, and empower yourself to consciously participate in creating a future reality from all of the possibilities which still exist now. Based on the fact that the Moon (which, among other things, is the stuff of dreams) is in fiery Sagittarius with both Mars and Saturn today, there is no time like the present to get started.
Offered In Service