It appears we have recently entered a period distinguished by departure. A notable number of people and patterns have discontinued of late. For instance, a handful of well-known media personalities left their their posts for various reasons only last week. Fortunately, astrology offers a time frame to anticipate or (even better) precipitate even more departures likely to follow.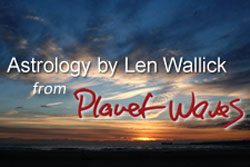 The implied time frame begins with the second Aquarius New Moon in a row at 6:47 pm EST (23:47 UTC) Wednesday, and continues through the entire lunation (the period from one New Moon to the next) well into March.
Our first Aquarius New Moon saw the luminaries (Sun and Moon) share the very first degree of fixed air last month on Jan. 20. This week's merger of the Sun and Moon will depart from a pattern of five consecutive luminary conjunctions in the first degree of successive signs. That pattern started with a Scorpio New Moon and solar eclipse on Oct. 23, 2014.
Instead, the Sun and Moon will briefly share the very last degree of Aquarius this week just before both depart for Pisces. Meaningfully, it will also be both Ash Wednesday and Asian lunar new year — two culturally significant points of departure in many parts of the world.
Appropriately, that new pattern will both repeat and conclude next month with yet another New Moon on March 20 in the very last degree of Pisces, just before the Aries equinox. That New Moon will also be a solar eclipse.
Until the vernal equinox, and following on the heels of tomorrow's Aquarius New Moon, a cascade of notable departures will take place on the zodiac and in the sky. Implicitly, the events of your life will either find a way to follow suit or be made to.
Mars departs Pisces and enters Aries on Thursday. Venus makes its own departure from Pisces to ingress Aries Friday, closely followed by the Moon.
Then, this weekend Venus and Mars conjoin for the first of three times this year. It begins a remarkable departure from the usual pattern of Venus and Mars merging in the same degree of the same sign only once every other year.
Come March 3, Mercury will depart from the narrow arc of Aquarius in which it has been pacing back and forth since the beginning of 2015. (That is, it leaves its 'echo' or 'shadow' phase.)
Saturn's station retrograde March 14 will eventually lead to its brief departure from Sagittarius in June. After taking care of several months' worth of unfinished business in Scorpio, Saturn will return to Sagittarius for the long run in September.
Finally, on March 16 or 17 (depending on your time zone), Uranus in Aries will make the last of its seven exact square aspects (separations of 90 degrees) to Pluto in Capricorn. After that, Uranus will begin a long, drawn-out departure from Aries while permanently moving away from its three-year pattern of oft-repeated and functionally continuous squares from Pluto.
It's all nearly enough to make you want to sing "Auld Lang Syne" for St. Patrick's Day. But don't plan on crying into your green beer.
Instead, you should probably contemplate how to participate with what the astrology indicates. There appears to be an entire lunation chock-full of successive departures now at hand, to be either undertaken or completed. Assuming such appearances are valid, it would probably be best if you took matters into your own hands.
At the very least, you will want to prepare for familiarity to depart. It will mean releasing attachments where appropriate. It will also and ideally mean creating new routines to replace what you had gotten used to. Even if the life pattern in question was not something you were particularly fond of.
For we tend to be creatures of habit, and even the most cursed of customs leave a vacuum that needs filling once departed. Hence, a very good reason for you to initiate departures of your own accord, so as to mindfully and intentionally replace old with better, rather than simply new.  
Even as millions begin the ritual repentance of Lent, you might want to consciously choose your own abstentions rather than have some arbitrarily thrust upon you. Additionally, while millions more clean house in order to entertain not only family and friends but also a more benevolent ambiance, you might want to do some cleansing of your own.
Indeed, in some ways, tomorrow's Aquarius New Moon might even feel something like an eclipse in advance of the real thing. Based on what is going to be happening for astrology over the next month or so, that might be a good feeling to go with. Especially so if you want to end up where you want to be, doing what you want to do when the next season auspiciously begins.
Offered In Service
Len is available for astrology readings. You can contact him at lenwallick [at] gmail [dot] com.