Links to today's show transcripts:
Environmental Crisis Unfolding in Houston as Oil & Chemical Industry Spew Toxic Pollutants into Air
As fallout from Hurricane Harvey in Texas and Louisiana continues, at least 30 people have died and more than 17,000 people are in shelters. Hundreds of thousands are under evacuation orders, and all past U.S. rainfall records have been shattered. In Texas, a third of Harris County—which encompasses Houston—is currently underwater. Houston officials have imposed a mandatory curfew between midnight and 5 a.m. ExxonMobil says Harvey has damaged at least two of its refineries, causing thousands of pounds of chemicals to be released into the air. Residents in Crosby, Texas, are being evacuated amid concerns a chemical factory damaged by Harvey could explode.
Texas Prisoners Evacuated as Floodwaters Rise, Houston Jail Keeps Inmates Next to Flooded Bayou
Hurricane Harvey has prompted at least five Texas prisons to evacuate nearly 6,000 inmates, and on Tuesday the Harris County Sheriff's Office tweeted that their jail next to the swollen Buffalo Bayou in downtown Houston had not been evacuated. Meanwhile, law enforcement officials are urging immigrants not to fear seeking help despite an anti-sanctuary law set to take effect on Friday. We get an update from criminal justice correspondent Renée Feltz.
Naomi Klein's Message to the Media Covering Houston: Now is the Time to Talk About Climate Change
The World Meteorological Organization on Tuesday announced that Hurricane Harvey's devastation is linked to climate change. All past U.S. rainfall records have been shattered, and the devastating storm is expected to bring even more rainfall to Louisiana and Texas in the coming days. And yet, the corporate networks have avoided linking the record-breaking storm to climate change.
Ex-NASA Scientist James Hansen: There is a Clear Link Between Climate Change & Stronger Hurricanes
Dr. James Hansen has been called the "father of climate change awareness." In 1988, Hansen first warned about the dangers of global warming when he testified before Congress. At the time, he was the top climate scientist at NASA, where he headed the Goddard Institute for Space Studies.
The Red Cross Won't Save Houston. Texas Residents Are Launching Community Relief Efforts Instead
Hurricane Harvey has sparked comparisons to Hurricane Katrina, which hit New Orleans 12 years ago yesterday. The devastating storm killed more than 1,800 people and forced more than 1 million people to evacuate. Both the government and major aid agencies like the Red Cross were widely criticized for failing to respond adequately to the disaster. Instead, local residents took matters into their own hands, launching relief, recovery and mutual aid efforts such as the Common Ground Collective.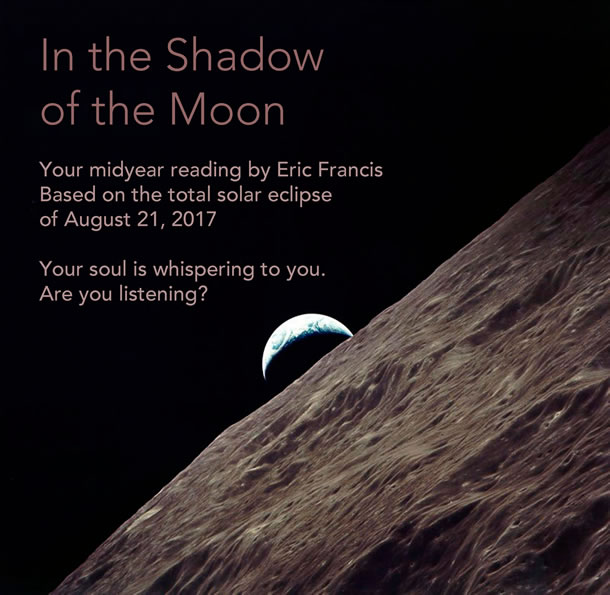 In the Shadow of the Moon, the exciting 2017 Midyear Reading by Eric Francis, is now published. The video readings for all 12 signs cover the Great American Eclipse of Aug. 21 and well beyond. We'll be increasing the price again very soon, so don't hesitate to
order your copy here
. You can also now choose your
individual signs here
.