Planet Waves is running a membership drive.
Read more in Solstice Fire and the Art of Service, by Eric Francis.

You're an untamed youth, that's the truth with your cloak full of eagles…
— Marc Bolan
Mercury enters tropical Cancer in direct motion tomorrow shortly before 2:52 pm EDT (18:51:33 UTC). Normally, it is little noted nor long remembered when swift Mercury changes signs. This particular ingress, however, is bound to resonate like a gong with notable correlations given how Mercury has been in Gemini since the last day of April (or first day of May, depending on your time zone).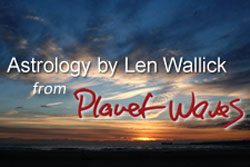 Hence, you would do well to serve up a little resonance yourself. More than two months is a long time for Mercury to reside in one sign, and that unusual tenure has undoubtedly corresponded with something being cooped up inside of you.
Of course, it was a retrograde that resulted in Mercury spending more than two months in Gemini, one of the two signs (along with Virgo) where it rules the roost. Nor was it just any retrograde.
More than three weeks of Mercury's residence in Gemini was spent in laboriously slow apparent reversal over an narrow arc of less than 10 degrees. That's a distance Mercury is now about to cover in one week, with further acceleration to follow. Hence, you can probably relate in some way to Mercury springing forth unbound from where it has been so inordinately confined (even though those confines were of home). So why not show it a little?
No matter how old you are, why not revive and express a little of your untamed and inscrutably awesome youth? No matter where you are, why not do a little dance if you feel so moved? You might even venture to sing a rollicking bit of song long forgotten. After all, those who would mind a bit of honest and overdue exuberance probably don't matter, and any who would matter almost certainly would not mind.
As Amy Elliott inferred yesterday, it would serve nothing to "allow self-doubt to dampen your courage." So get it on. If it means being (or getting) a little dirty, add a little sweet to make Mercury's tour of fecund Cancer more palatable. After so long in an intellectual air sign, it's time to think wet, and get that way.
Please keep in mind that getting wet need not require alcohol. Indeed, with Mercury about to speed through a water trine with Neptune in Pisces, you would be well advised to say "no thanks" to anything that would slow you down. Rather, quicken yourself with the nourishing refreshment pure water affords and save a little to pour on your head — just to show those who are still self-confined how to have a little fun.
Get it on. Bang a gong. Mercury is about to set itself free. You could do far worse than to do a little of the same for yourself. By way of doing the same for others, please remember that a sliding-scale gift subscription to Planet Waves provides those that matter with more than just serious journalism, photography and astrology.
In case you haven't noticed, Planet Waves also knows that Art In Service means serving up a little fun, too. If you have a little extra scratch to spread around, share the ride and let your friends see that (in addition to being a rock of advertising-free sanity in an often crazy world) Planet Waves also serves to rock your world with refreshing exuberance.
Offered In Service 
Len is available for astrology readings. You can contact him at lenwallick [at] gmail [dot] com.