Links to today's show transcripts:
As Catastrophic Flooding Hits Houston, Fears Grow of Pollution from Oil Refineries & Superfund Sites
A catastrophic storm has hit Houston, the nation's fourth-largest city and home to the largest refining and petrochemical complex in the United States. The crisis began on Friday when Hurricane Harvey made landfall in Rockport, Texas. It was the most powerful hurricane to strike the state in more than 50 years. Much of the damage has been caused by the massive rainfall, with parts of Texas already receiving 30 inches of rain. That could top 50 inches in the coming days. Entire highways in Houston are now underwater. The storm has caused five reported deaths, but the death toll is expected to rise. Thousands of people are still stranded in their homes, waiting to be rescued. Meanwhile, the city of Dallas prepares to turn its convention center into a mega-shelter to host 5,000 evacuees. The National Weather Service released a statement on Sunday saying, "This event is unprecedented and all impacts are unknown and beyond anything experienced."
"This Is the New Normal": How Climate Change Is Fueling Massive Storms like Harvey
Hurricane Harvey has already dumped more than 9 trillion gallons of water on Texas—enough water to fill the Great Salt Lake in Salt Lake City twice. Meteorologists project another 5 to 10 trillion gallons of water could be dumped on the region in coming days, potentially making this the worst flooding disaster in U.S. history.
A Dilemma for Undocumented in Texas: Wait Out Hurricane Harvey or Seek Help and Risk Deportation?
Hurricane Harvey has threatened the safety of immigrants in Texas who are afraid to evacuate to shelters or approach authorities to seek help, in part because of a new law set to go into effect Friday that allows police in Texas to ask people they detain for their immigration status. Ahead of the storm, the U.S. Border Patrol said its roadside immigration checkpoints in the state would remain open. The agency later modified their statement, saying, "Routine non-criminal immigration enforcement operations will not be conducted at evacuation sites, or assistance centers such as shelters or food banks." More than 50 immigrant women and children were left stranded by immigration authorities at a bus station in San Antonio on Friday after bus service was canceled due to Hurricane Harvey.
"Resurrected From Irrelevance": Arizona Republic Columnist Slams Trump Pardon of Sheriff Joe Arpaio
The White House announced on Friday that it was pardoning longtime Trump supporter and former Maricopa County sheriff Joe Arpaio, the controversial Arizona lawman known for profiling Latinos. Arpaio once bragged that he ran his open-air tent city jail like a "concentration camp." Arpaio was first elected in 1992 and voted out of office in November after years of civil rights complaints and corruption allegations. In July, a federal judge found Arpaio guilty of contempt of court for defying an order to to stop his deputies from detaining people based on their perceived immigration status. He faced up to six months in prison at his sentencing, originally set for October 5. While pardons are usually granted to those facing felony charges, Arpaio was convicted of a misdemeanor and had not submitted an application for pardon. In a two-paragraph statement, the White House said Arpaio gave "years of admirable service to our nation." The Phoenix-based immigrant rights group Puente said Arpaio's pardon sent a clear message that it's "OK to break the law as long as it's to further a white supremacist agenda."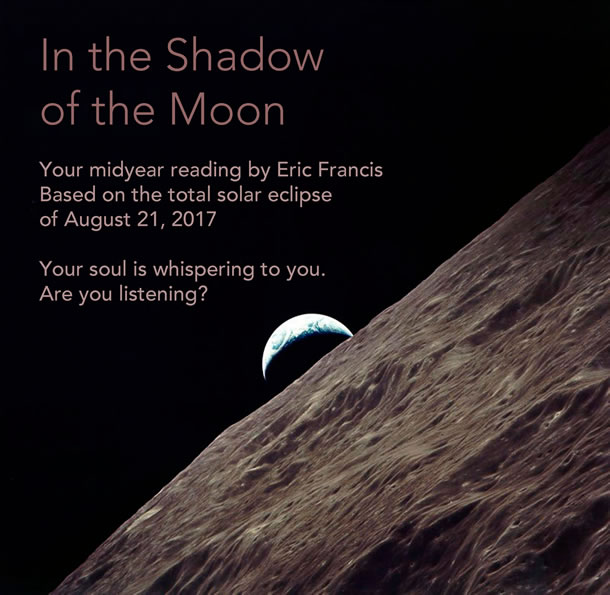 In the Shadow of the Moon, the exciting 2017 Midyear Reading by Eric Francis, is now published. The video readings for all 12 signs cover the Great American Eclipse of Aug. 21 and well beyond. We'll be increasing the price again very soon, so don't hesitate to
order your copy here
. You can also now choose your
individual signs here
.