There's an old saying about keeping an ear to the ground. There is also a truth in the aphorism. Generally speaking, the denser the medium, the faster sound travels through it. That's how actually placing your ear in contact with the ground can give you data before you could receive it through the air.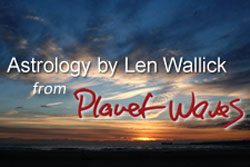 Maintaining an ear to the ground is also a figure of speech for being especially alert and attentive. As such, it's an appropriate metaphor to employ when Mercury is moving through what astrologers call its first 'shadow' (or 'echo') phase prior to retrograde.
That phase begins shortly before 7:30 am EDT (11:23:43 UTC) tomorrow and continues until Mercury shifts into reverse on Aug. 30. You can think of the phenomenon in terms of both space and time.
Spatially, the shadow begins when Mercury in direct motion first passes the zodiac degree where its next retrograde will eventually come to an end (with a pivot back to direct motion again). To help you visualize it, think of a windshield wiper on an automobile. The wiper's first swipe is the first shadow phase and the second swipe (which returns the wiper to its starting position) is the retrograde. That's how it works on the zodiac.
Tomorrow, Mercury's first swipe begins smack in the middle of Virgo. Mercury will then continue in direct motion until it reaches the very last degree of Virgo where its retrograde will begin. From there, Mercury will backtrack, returning to mid-Virgo on Sept. 22.
After that, a resumption of direct motion will carry Mercury over the second half of Virgo a third and final time. That will begin the concluding echo phase, before Mercury finally moves on to new territory (and into Libra) after Oct. 6.
In terms of time, the first of Mercury's three swipes usually takes more than two weeks, but less than three. From an astrologer's point of view, it's typically a period you can put to good use if you have your ear to the ground for any foreshadowing (so to speak). Given the part of the zodiac Mercury is about to begin tracing and retracing, the results of monitoring events with extra care should be more than just typically productive.
First off, Virgo is one of two signs (along with Gemini) where Mercury is said to rule. That's another way of saying that the earthly manifestations of Mercury can be expected to express strongly while Mercury is moving through Virgo. Among the many worldly phenomena associated with versatile Mercury is information.
What's more, the midpoint of Virgo is the one degree in all of the zodiac where Mercury is exalted. In other words, the already strong expression of Mercury in Virgo can be expected to be even further amplified and most highly focused when Mercury is at that particularly sweet spot.
Additionally, consider the combination of element (earth) and quality (mutability) that distinguishes Virgo from the other eleven signs. Among other things, the specific amalgam of earth and mutability implies that any time Mercury spends in Virgo can be an especially productive period to gather information for the purpose of making changes in your life.
Finally, consider just two ways the beginning of Mercury's shadow phase tomorrow connects holistically with the rest of the zodiac. Once again, employ concepts of space and time.
Spatially, Mercury at the midpoint of Virgo tomorrow will be in a precise trine aspect with Pluto in the cardinal earth sign Capricorn. A trine is a separation of 120 degrees.
That particular geometric relationship clearly implies a flow of grounded and substantial power available to anybody who has an ear to the ground. In addition, the Moon (which entered Scorpio earlier today) will move to 90 degrees of separation (a square aspect) from the Leo Sun tomorrow for its first quarter phase — just seven hours after Mercury enters its shadow phase.
Among other things appropriate to accomplish during a lunar first quarter is a leveraging of your awareness. Doing so would include action on your part.
Specifically entailed would be your acting to become more conscious of what's going on both inside and outside of you, and then putting that information to work to become stronger and more highly evolved once the square aspect has passed.
In view of the fact that the Moon moves rather swiftly, timing is important when it comes to lunar aspects. Any ear to the proverbial ground could thus make a big difference tomorrow, and even possibly result in an easier time for you during the rest of our current lunar cycle, which will end less than 48 hours after Mercury's retrograde begins.
So do what you can to keep your eyes, ears and other senses more open and connected beginning tomorrow. Strive to keep yourself well informed. Try to be especially proactive when it comes to gathering information that strikes you as useful or advantageous as regards to addressing any unanswered questions or unresolved tensions you are left with after today.
Chances are that any effort you expend keeping your ear to the ground for the rest of this month will be returned to you as even more substantial insights once September begins.
Offered In Service