We are now in a new season, defined by today being the first full day of 2016 with the Sun in the cardinal water sign Cancer. In the context of the rest of the astrology, this new season has an apparent theme. That theme is definition.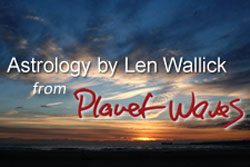 More specifically (and realistically) one might say we are now in a season defined by an imperative to re-define on both the individual and collective levels. You can see the process playing out in recent days through individual writers expressing themselves here at Planet Waves.
You can also see at least the potential of collective redefinition taking place in the U.S., Great Britain and other places as regards to political issues and candidates currently in contest. In all probability you are also facing either the necessity of adapting to, or the incentive to create, new circumstances in your life.
For astrologers, an all but stationary Mars in Scorpio is part of the picture. For you, it's probably a big part. Normally, Mars moves around the zodiac at the pace of a degree every two days or faster. Like all planets nearing the end of a retrograde period, however, Mars is now all but stationary.
Specifically, Mars is currently in in the midst of moving very slowly in the narrow confines of one single degree of Scorpio for more than three weeks. Imagine being an energetic little kid attempting (or being obliged to) hold still for more than a few seconds, and you will get a clue about how Mars may well be said to be manifesting in your life now.
Even as much as you may be feeling it, a restless Mars only begins to define our new season on the whole. There is a deeper, more widespread and more prolonged level with which the impatient energy of Mars is connecting. That connection is so precise as to be profound in its implications.
Exactly 150 degrees away from Mars in Scorpio, Uranus and Eris are sharing the same degree of Aries at the same time. Astrologers refer to two planets in close proximity as a conjunction aspect. Hence, Uranus and Eris are conjoined. A separation of 150 degrees, in turn, is called a "quincunx" aspect. In general, the more precise an aspect, the more powerfully it expresses.
Among other things, a conjunction represents a marriage of sorts — two objects merging into one. When you take the revolutionary nature of Uranus and combine it with how Eris seems to correlate with issues of identity, the implication is a redefinition of self. Having Uranus and Eris conjoin in Aries reinforces the picture. That's because the nature of Aries may be expressed through the declarative statement "I am." Add in the fact that both Aries and Scorpio are ruled by Mars, and the current quincunx relationship between the Uranus-Eris conjunction and Mars takes on an even greater potency.
Among other things, a quincunx represents a time for adjustment. Depending on the constituent planets that make up the quincunx, and its context in rest of the zodiac, the adaptation implied may be either desired or required. It would not be surprising if you are now experiencing a bit of both.
Any proverbial itch currently originating from inside you probably correlates with Mars. That's because Mars is usually thought of as a so-called personal planet. One reason personal planets are so called is because they complete their cycles many times in the space of an average human life. You can think of the Sun, Moon, Mercury, Venus and Mars as being quite personal.
Uranus and Eris, on the other hand, take a long time to orbit the Sun and make a circuit of the zodiac's 12 signs. That length of orbit corresponds with the more impersonal forces expressing in your life — such as economics, politics and history. As such, the role of Uranus and Eris right now correspond with any push to adjust that originates from outside you at this time. The phenomenon may take the form of social pressure, the actions of an employer or the behest of a governing body, among the many possibilities.
Your place in the astrology of this new season very much parallels your relationship to what a change of season most usually corresponds to: a change of weather. When the weather changes, you need to adjust in order to attain or regain comfort. It's not so much a question of whether you adjust to changing weather, either. It's more a matter of when and how. The same might thus be said for who you are and your place in the world right now.
Whether any discomfort you are feeling about your identity or place in the world originates from the inside, the outside or both, it's not so much a matter of whether you will adapt. It's a matter what form the adjustment takes and how long it will take before you can feel right again.
As such, in these days of a restive Mars combined with Uranus and Eris to provide motivation, you should be more concerned about the consequences of inaction than the results of action. That's especially true when you consider what the other planets are doing and how other parts of the holistic astrological picture are giving your some guidance. We will examine at least one of those other planets, and its role in the big picture, later this week.
For now, let your need for comfort guide the choices you make and the actions you take. Also, pay attention to whether and how the phenomenon of resistance (whether originating from inside or outside of you) may be contributing to or detracting from your ability to make mature and responsible adjustments to the current climate of your life.
Offered In Service