Your life probably has some focus. Focus is determined by your priorities, and constitutes a large part of your reality. That's all to the good. In an age when a huge amount of information reaches you instantly from all parts of the globe, you need to pick and choose what will take up your attention, time and energy.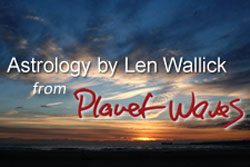 The astrology this week, however, does seem to encourage you to widen your focus just a bit. Again, that will also be a matter of choice.
You might be tempted to focus a bit more on politics as the U.S. presidential race heats up. Or you might need to focus more on family as we approach what for many is a holiday season.
Then again, if you are following astrology you might want to choose a path less often taken. You may want to leave baseball's world series and the political talking heads to the large crowds they will attract. Could be you would be better off devoting whatever time and energy you have leftover to focus on what you have taken for granted.
Even if you seemingly have no time or energy to spare, you might want to adjust your priorities and attend to your health instead of relying on it. The same may possibly be said for the health of your community, or that of the Earth. For without healthy body, mind, community and planet, how would you be able to focus on anything of your own choosing and apply yourself effectively?
That's one question being put by today's Full Moon, and some select (if easier to overlook) astrological events to follow through the end of this month. If ever a Full Moon has taken on a wider focus, it's this one. Consider its location. As noted in this column on Thursday, the Taurus Full Moon this morning took place in the precise degree of the zodiac where the Moon is possibly most powerful — the lunar degree of exaltation. Additionally, as Amanda described yesterday, that same degree of Taurus is also where Chiron was discovered.
Chiron itself, especially in its opposition from bright Venus today (which Amanda also noted in the comments), is about focus, but not of the narrow variety. Paraphrasing Robert Hand, the type of focus implied by Chiron is holistic, having to do with details upon which an entire system would depend. It's about knowing what detail needs your attention at any given moment so that the whole can continue to function.
So it is that some often unheeded details of the solar system are combining with and following today's Full Moon to indicate a wider focus might be the wiser option. It started with Vesta temporarily taking its theme of devotion back to Pisces in retrograde on Sunday. It is as if Vesta needs to attend to a few remaining details that will allow it to focus its fiery advocacy in what will ultimately be a long journey through Aries.
The theme of considering a wider focus then extends to Ceres entering Aquarius today. Eric provided us with the holistic lowdown regarding Ceres (in the midst of what were ostensibly more 'important' astrological events) back on Oct. 18. If you haven't read that piece yet (or to re-read it with re-focused and new appreciation), you will find it linked here.
Finally, when Pallas takes its own priorities of justice and art into Capricorn on Saturday (as both the week and the month draw to a close), you might notice a wider theme. Vesta, Ceres and Pallas are named after ancient goddesses, which were too often taken for granted and not often enough given the focus they deserved.
When Vesta was not given the emphasis she was due, Rome suffered. When Ceres and her concerns were rudely dismissed by the good-old-boy gods of antiquity, Earth suffered. Last, but not least, the failure to honor Pallas with the proper respect never failed to exact a telling toll on the gods, nations and heroes of legend.
Hence, even if you are running as fast as you can to stay in the same place, you may want to at least consider a slightly wider focus this week. Include yourself in that by taking even a small step to better support your health. Include your community by remembering that politicians and politics are only part of the picture. Finally, always remember to include the Earth with an endeavor to leave wherever you go a bit better than you found it.
You are heading into what will, in many ways, be a busy season. Politics, cultural festivities and family relationships will all be clamoring for your attention through the end of the year. Even so, they are but part of a greater whole. A slightly wider focus for the sake of seeing and supporting that greater whole just might be the best investment you can possibly make at this time.
Offered In Service