Planet Waves is running a membership drive.
Read more in Solstice Fire and the Art of Service, by Eric Francis.

Imagine you are standing on astrology's zodiac circle of signs just inside the territory of Leo, where the Sun is ruler (and where the emblematic Sun will be after tomorrow). Then, envision a friend standing in the very last part of the sign Cancer, where the Moon is ruler (and where the symbolic Sun is today). Finally, picture holding hands with your friend, and that your hands are clasped directly over the line (or cusp) where Cancer and Leo meet.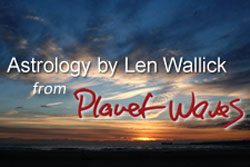 Then, please allow yourself to imagine that you and your friend agree to each go your own way for the time being, walking around the zodiac in opposite directions at exactly the same pace to meet precisely on the other side, 180 degrees away. (Note: you and your friend are not impersonating any particular planets in the sky in this exercise.)
If you were to walk in a counter-clockwise direction (emulating direct motion), you would eventually leave Leo behind and step into Virgo, where Mercury rules.
Your friend, walking clockwise (impersonating retrograde motion) would simultaneously retrace Cancer to eventually enter Gemini (albeit through the back door) where Mercury also rules. Interesting, that.
Your own journey around the circle would next take you from Virgo to Libra, ruled by Venus. In synchronized ambulation, your friend would step into Taurus (the other sign ruled by Venus) just as you were entering Libra.
Continuing your circular journey, Scorpio (where Mars alone ruled before the discovery of Pluto) would be your next destination, and your friend will concurrently have reached Aries — the other dominion of Mars. The next sign on your itinerary after Scorpio would be Sagittarius, domain of Jupiter. In the meantime, your partner would be making her or his way into Pisces, where Jupiter was also preeminent before the discovery of Neptune.
At the end of your trip would be Capricorn, realm of Saturn. Your collaborator would likewise conclude explorations in Aquarius, where Saturn also reigned without rival until the discovery of Uranus.
Clasping hands once again, but this time where Capricorn and Aquarius meet, you might share the details of your separate journeys. If such a discussion were to include the succession of signs (and corresponding rulers) respectively traced, your combined experiences would reveal an impenetrably ancient order in the zodiac — an order that begins at the cusp between Cancer and Leo.
There are no archaeological or anthropological records of astrology in the process of development. No matter where on Earth you go, no matter what culture you study, the earliest surviving evidence of astrology is of a fully functional system. Hence, the documented, as opposed to speculated, origin of how the original planetary rulers (all visible to the unaided eye) came to be arranged on the zodiac is lost to irretrievable antiquity.
When the Sun enters Leo tomorrow shortly before 11:31 pm EDT (03:30:24 UTC Thursday), the solar symbol of consciousness will once again make its own annual journey across what is thus a highly consequential cusp. It's the place where this missive first asked you to imagine your hand conjoined with that of your friend. The place where a mysterious, yet entirely natural order in the zodiac begins.
Assuming you are awake as tomorrow segues into Thursday, you might want to stand in simple awareness of that mystery. You may want to sit with the apparently simple cypher that so many take for granted. Rather than trying to parse out the details of aspects, getting all wrapped up in what it 'means', you could simply consider feeling the moment and connecting with times long past, beyond scholastic recovery.
For in every cell of your body, there is a record of life's entire history on Earth. In your DNA (and probably many other cellular components), mysteries are recorded. Through your genes and the essence of your physical being, all that preceded history is understood. That understanding would include the origins of astrology.
Whether astrology was somehow developed by humanity, or whether it was in some way bequeathed to us whole is something you can grasp and know, but not through the abstract machinations of your mind. That's how tomorrow or Thursday would be an appropriate occasion to put your intellect aside for awhile.
That's how this week constitutes a good and appropriate time to ask the manifestations of fire, earth, air and water in your body to tell you of their own journey as the Sun once again crosses a consequential cusp. Perhaps by doing so, you can achieve a significant crossing as well. 
Offered In Service
Len is available for astrology readings. You can contact him at lenwallick [at] gmail [dot] com.