Astrology does not cause anything to happen. Astrology is a source of information. The information is derived from observing and correlating cycles and patterns exhibited by the solar system of which you are a part. Your part is to make choices. The Sun, Moon and planets cannot choose. They follow the laws of physics. You, however, have the privilege of choosing to serve and manifest what you value — or not.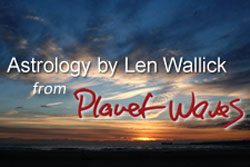 Your choices do in fact cause things to happen (or not). Even a choice not to choose has consequences. Better, then, that your elections be informed so as to accrue results that align with your values and support your intent.
That's where Planet Waves as a membership entity, and our Art of Service as a concept, comes in. Planet Waves is a unique source of information about the solar system and the world, because what you read here is provided without advertising.
Hence, the content of Planet Waves is without corporate influence. That's how the Art of Service extends to you.
If you place value on Planet Waves being accountable only to its subscribers (rather than serving as a platform for corporate profit), and provided you have the privilege of discretionary resources to go with the privilege of choice, please consider actively participating as a subscriber.
By selecting from one of the membership options here, rather than simply buying a product from a corporate sponsor, you become the sponsor. You can ensure that your resources directly support your values. You can choose to serve and manifest the Art of Service in the world as part of something greater and more expansive than you could be on your own.
Unsurprisingly, the astrology at this time continues to inform Planet Waves in its endeavor to continue in your service without corporate sponsorship. Fittingly, our membership drive initiated earlier this week with Mars (a planet of action) entering the cardinal sign of Cancer (where the Sun initiates a new season).
Now, appropriately, our appeal to your values continues as the planetary emblem of value — Venus — moves to merge with amplifying Jupiter in Leo, shortly before 3:51 am EDT (7:50:46 UTC) on Wednesday, the first day of July. And Leo is where the Sun, as a symbol of consciousness, rules the roost. Now that's interesting, isn't it?
It's interesting that you are today being offered a choice to merge a small part of your resources with others who share a similar consciousness, amplifying the influence of your values and your intent in the world. 
Of course, such a result is not inevitable. You could choose otherwise. You might elect to be passive (another manifestation of Venus) and do nothing. You have the privilege simply to watch as Venus and Jupiter come so close together in the West, that holding up a single finger at arm's length would cover them both.
As you hide the symbolic potential of this moment in time behind your extended digit, you might wonder. You could wonder who is seizing a moment that implicitly will not repeat again until Aug. 23, 2038 — the next time Venus and Jupiter will conjoin in Leo. You can choose simply to wonder whether those who are actively moving with Venus and Jupiter, rather than just watching, are also moving to hold up their middle finger towards all you hold dear.
Or, you could elect to express an alternative side of Venus and indulge yourself, provided you have the discretionary resources to do so. Admittedly, not all of us have that privilege.
If you do, you could easily exchange the same portion that would avail you of a Planet Waves Core Community membership for an entire year, and treat yourself to a weekend feast. In return for the temporary comfort of indulgence, you might possibly expand your waistline (another manifestation of Jupiter). At the same time you would almost certainly expand the influence of those who would very probably devote a portion of your exchanged resources to support social agendas and political candidates that you are not comfortable with.
So you see, astrology does not cause anything to happen. Inevitably, you do. One way or another, exercising your privilege of choice, in the time you have available to do so, will manifest consequences. By distributing what resources you have available, results will undoubtedly accrue.
Should you be fortunate enough to have discretionary resources at this time, please consider the options you have, and the outcome each option would entail. Should you be so fortunate as to be able to be something more than passive, and choose to be something other than indulgent, please consider becoming something of a patron of the arts. In this case it is the Art of Service, which Planet Waves endeavors to practice for a greater good in which we ask you to take part.
Offered In Service
Len is available for astrology readings. You can contact him at lenwallick [at] gmail [dot] com.