Pope Francis I is coming to town this week. As we open the doors of Congress and the United Nations to welcome him, the theme of the questions we ask inevitably is: "How are the Papacy and the Catholic Church responding to the world as it now exists?"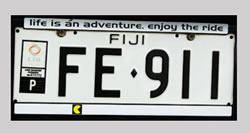 Pope Francis will be arriving in an America, which some here call a "Christian" nation — but ironically, right now we're a country in midst of ramping up its presidential campaigns on platforms that would make Jesus facepalm.
Donald Trump's candidacy minted itself on Day One as anti-Hispanic immigrant, and it has grown its base of right-wing racists because of it. We're still not certain of Hillary Clinton's veracity when it comes to emails, but what concerns us more is her connection to big money lobbying interests in Washington DC, which have a Kraken's tentacle-hold on US politics.
Whenever Jeb Bush says his brother "kept us safe," we cough out "ISIS" as a direct result of the chaos that ensued when Dick Cheney's Halliburton and other military corporations profited in billions of government money, while under contract purportedly to rebuild Iraq, but not doing a damn thing other than making Iraq a worse mess.
Trump's racism is not new. It's ongoing in this country, and its current upswing has had years of build-up and acceptance from the recent past. The vehement anti-Muslim rhetoric grew in the media in the wake of 9-11. The birther movement –- questioning Barack Obama's "otherness" — arose just before President Obama first took office; and the outright racism against African Americans was sanctioned through speech, practice and policy, starting with the halls of Congress.
We call ourselves a Christian nation, going so far as to re-write the history of America's Deist Founding Fathers who were children of the Enlightenment and who believed in the separation of Church and State. Yet, as a result, we have become far less tolerant –- less Christ-like –- in the process.
We've recently seen displayed some very un-Christ-like behavior by clerk Kim Davis of Rowan County, Kentucky. Her Christian beliefs not only prevented her from allowing gay couples to marry, but also stopped her staff from issuing licenses as well.
Then there's the arrest of Ahmed Mohamed, a 14-year-old high school student in Irving, Texas, for bringing his science project –- a home-made clock –- to school. This prompted school authorities to call the police to arrest Ahmed because: 1) he's a Muslim and 2) there is no number two.
Ahhhhmerica: what would the Pontiff say?
Thursday's address by Pope Francis to a joint session of Congress should be an interesting political and spiritual marker, but not of the Papacy's evolution; rather, ours. The Christianists and Intolerati are getting blowback from recent events — in response to Ahmed's arrest in Irving, Texas; and eye-rolling impatience that Kim Davis just DO-HER-JOB-ALREADY after serving time in jail for contempt of court. I may or may not be the only person feeling a shift taking place, but I get the feeling that perhaps our intolerance threshold is at peak and the only way next is a downward slope. Digging out my old school-girl rosary beads, I pray this is so.
With the Pope's arrival, the Democrats may wince at the Republicans timing their vote to defund Planned Parenthood around the time of the Pontiff's speech, yet the Republicans will most likely feel the sting of the Pope's concern over the "economy of exclusion", also known as global income inequality, as well as his climate change activism. Both parties should take a back seat when it comes to the "pay to play" politics that is killing democracy here and in poorer countries wholesale across the planet.
Remember that it was Pope Francis who instigated talks between Cuba and the US, defrosting 60 years of cold relations between two countries, and leading to the US re-opening its embassy in Havana earlier this summer. It's the Pope whose liberation theology beliefs were forged from being a priest in Latin America during a time of intense and painful revolutionary struggle. It is this Pope who is questioning the closing of borders in Europe during the Syrian refugee crisis — a crisis caused in large part by our Western wars for profit. It is the Pope who leads and concerns himself with a global flock of 1.3 billion people, world-wide.
Maybe the question we should really ask when Pope Francis I touches down in America is: "How is the United States responding to the world as it now exists?" Who is more in touch with this turning world and all its people? The Pope or us? What are we doing about it? Perhaps Congress and the rest of the country should brace itself not for a pat on the back but for a sermon that needs to be heard by an errant flock — Christian and otherwise.