I trust you are still feeling your way through today's total lunar eclipse that happened this morning. 10 Ajmac/Owl is a sign of creating harmony, so this powerful eclipse may have some positive repercussions — though it may not feel very positive to those who live on the wrong side of history.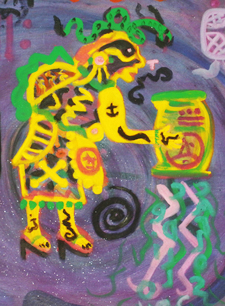 Find a place to meditate, reconcile yourself to the truth, and mediate for peace. If nothing has been clearly released from your life, you may have to wait and watch carefully to see what develops, much like a powerful rainstorm followed by a new light.
Everything has implications. I think that is the message I am hearing from this eclipse on 10 Ajmac, the Dark Owl day, Oct. 8, 2014. Go where the people treat you right.
The previous Blood Moon was on April 15, 2014. That happened to be on 3 Ahau/Sun. Generally a healing energy sign, it sure kicked up lots of dirt before we could arrive safely in our newly healed condition! So maybe the true implications of a 10 Owl Eclipse will take a few days to manifest.
Tuesday Len Wallick wrote that there was a connection from this week's lunar eclipse to one 19 years ago. I checked with the Mayan calendar, and that was a 12 Owl day on Oct. 8, 1995. So there is emphasis from two different astrological systems suggesting you think back (research old journals if you have to) to that time to see what resonates between then and now, and what has changed for you.
That is around the time I began making frequent road trips into Mexico, collecting crystals and climbing pyramids. Those journeys and the growth that took place for me are the entire basis of what I try to write about and teach you all in this blog and in my book, and in the sounds of my musical vibrations and the colors and lines in my artwork. I guess it is time for me to take off on a new kind of adventure for the next katun (7,200 days — a little more than 19 and a half years in the Western calendar). I can't wait!
I promised a reader and client that I would write more about the Private readings I do and use her chart as the example. I will have to write that in the comments section later this week, because as I am writing now, the Moon is shifting rapidly into position for the lunar eclipse, so I have to run!
Thanks and Love —
All together relations,
Aho Mitakuye Oyasin!
Carlos is available to help you along your road of spiritual awareness through private Maya tzolkin readings and sacred ceremonies. Contact him at cosmicjaguar@yahoo.com and check out his website, Violet Flame Records.