One of playwright Neil Simon's most popular works has been The Odd Couple. First it was a hit play on Broadway, then it was a successful motion picture. Later it was a long-running television series. There was clearly something about how fastidious Felix and disorderly Oscar shared living space that provoked both laughs and a sympathetic response from many.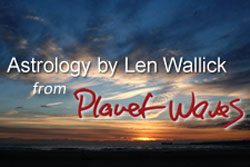 Astrology has its own long-running version of The Odd Couple in Saturn and Uranus. Tomorrow, when the Sun enters Aquarius just after 10:27 am EST (15:27:02 UTC), that relationship will be spotlighted once again.
That's because both the actual Sun in the sky and the symbolic Sun of astrology bring light, facilitating conscious awareness wherever they go. In Aquarius, the Sun will once again illuminate a long-running controversy regarding that sign's mismatched roommates.
Up until 1781, Saturn was the undisputed ruler of both Capricorn and Aquarius. Then, Uranus was discovered. What followed was a long, odd, unruly, yet also astute process that ultimately resulted in a widely shared perception of Uranus and Saturn as co-rulers of Aquarius. Not everybody was (or is) happy with that somewhat arbitrary pairing, however. The controversy continues up to this day, with some highly respected astrologers (such as the unimpeachable Robert Hand) casting a decidedly jaundiced eye at any suggestion that Uranus should shack up with Saturn in Aquarius. Even so, the idea still flourishes, and by its paradoxical persistence resonates with Aquarius' oxymoron of a fixed air sign.
Perhaps there is something of the same appeal of Uranus and Saturn sharing the rule of Aquarius that made Felix and Oscar sharing an apartment such an enduring tale. After all, it was a story that climaxed in a heated conflict, which served as the cauldron in which the two of them realized the mutual benefits they conferred to each other. Emblematically, such a realization appears about to take place for Saturn and Uranus (possibly showing up in your own life, or even in the world as a whole), because of how those two planets are relating to each other on the zodiac right now.
Interestingly, Saturn and Uranus are even now moving into a a fire trine, which seems to have gone under the radar for a lot of astrologers. In other words, Saturn in the fire sign Sagittarius is slowly but surely sneaking up on 120 degrees of separation from Uranus, which is in the fire sign Aries. While the aspect will not be exact until the end of this year, on the night before Christmas, it's within orb (close enough to be considered functional) now.
Based on how long since a fire trine from Saturn to Uranus last happened, it's a big deal. Nearly 60 years have passed since Uranus was in Leo while Saturn was on a previous tour of Sagittarius; that's when the Aquarian odd couple were last in a fire trine aspect with each other.
One thing we know about trines is that the shared elemental component of the signs involved (in this case, fire) serves to mitigate the wide degree of separation on the zodiac, like how a conducting combination of cables and wires mitigates the distance between where electricity is generated and your home. In other words, trines function to connect almost like a conjunction (when two planets share the same sign).
You might say it's the next best thing to being there. And if the Sun brings light, fire must certainly bring a little heat.
On top of it all, the Sun is entering Aquarius, where it will transit the mid-point in the Saturn-Uranus trine in addition to illuminating their unlikely loft. For that reason, you may want to watch carefully the days between Feb. 3 (when the Aquarius Sun sextiles Saturn in Sagittarius) and Feb. 6 (when the Aquarius Sun sextiles Uranus in Aries).
Look especially for any conflict between yourself and somebody with whom you may have a strange yet potentially beautiful relationship. It's very possible that some conscious awareness brought to such a conflict could result in the same touching resolution that brought Felix and Oscar to appreciate each other as sympathetic human beings in spite of their differences.
Just as Felix and Oscar were thrown together to share an apartment, you have come by some situational means to share space and time in this world. If not in your actual living space, then in some other arrangement you have to find ways to get along.
Whether it be for a few minutes on a crowded public transit vehicle or hours in the workplace, or for years (even up to a lifetime) in a committed relationship or community, odd couplings are unavoidable — and potentially precious beyond price. For that reason, while the Sun is in Aquarius (until Feb. 19), it just might return more than your effort to shine a little light of your own, so that we all might better appreciate what we can do for each other if we can only get along.
Offered In Service