"You take away the breath I was keeping for sunrise."
— Pete Townshend
Early this morning (or late last night (depending on your time zone), the Libra Full Moon with retrograde Jupiter nearby was a breathtaking sight for those of you fortunate enough to have clear skies. Retrograde Venus is likewise impressive in the East just before dawn. In fact, retrograde is currently the rule for all visible planets orbiting the Sun except Mars.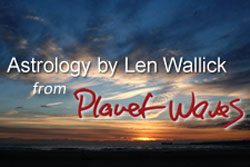 Up until relatively recently, the celestial situation was much different. Before Jupiter initiated its Libra retrograde in the first week of February, all the sign-ruling planets had been in direct motion for about a month. After that, things changed rapidly.
On March 4, Venus commenced a retrograde in Aries, which has since returned it to Pisces. Then came April.
On April 6, Saturn shifted into reverse conjunct the Galactic Core in the same degree of Sagittarius it still occupies. Last weekend, Mercury followed suit to begin its slowest retrograde of the year in the same degree of Taurus where it is presently positioned.
Venus will break the retro pattern when it resumes direct motion this coming weekend. On April 20, however, Pluto will restock the backpedal collection. At that time, it starts a period of over five months just to retrace less than three degrees of Capricorn.
What to make of so much recent change in planetary direction would be a rational question for you to ask about now. It's also probable that you would not need to be an expert in astrology to derive a workable answer. All you really need to do is look back to your experience of the sky last night, and compare it to all that's transpired in your life over the last two months or so.
Unless you are an earthly exception, life has offered more than a usual share of breathtaking experiences since January. Admittedly, you could probably have done without some of them. Even so, that which proves cause for a pause in the rhythm of respiration is, by practical definition, important. Regular breathing is vital to remaining alive and healthy. Anything that instinctively brings you to interrupt such a vital function must, therefore, be highly significant.
If there is anything to correlating a recent abundance of retrogrades with an unusual number of breathtaking events, that could be vital information for you to keep in mind during days to come. That's because the astrology for this week implies you will have reason to understand how a seldom-used synonym for taking a breath is the word "inspiration."
In order not to miss your chances to be inspired, it will be necessary first of all to breathe consciously. Such a practice in itself is healthy in more ways than one. This week, however, you will have yet another reason to be more present than usual to your exchange with the atmosphere. After all, anything that takes away the breath you were keeping for sunrise is something you would not want to miss.
Offered In Service
---