While enjoying last year's Thanksgiving at my sister's in-laws, the peril of the Trump campaign and potential presidency revealed itself.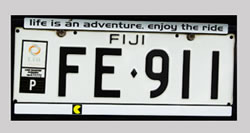 While we were enjoying our pre-meal wine and appetizers in a lovely home in Oakland's Piedmont hills, Sam, a bright young man in his early twenties, pulled a red trucker's cap with its gold lettering: "MAKE AMERICA GREAT AGAIN"
"No." That was the first word to come out of my mouth. "No, Sam," I said, shaking my head. "You cannot be serious."
He looked at me blankly. Suddenly I felt ill.
He said, "But he will make American great again!"
Who was I talking to here at the family dinner? I have watched our cousin Sam since he was a baby. My niece and nephew Nikko and Felicia played with him at my sister's farm. Sam has since grown into a handsome young man who is earning his degree in international studies at the University of California in Santa Barbara. Fluent in Arabic, he spent last summer in the Middle East, and has a future in the diplomatic corps if he continues as he is.
All these facts swirled around my head, churning both head and gut into a bout of existential nausea when I heard our Sam — our brilliant, handsome Sam — utter the campaign slogan of "He Who Must Not be Named," wearing the cap no less. And smiling.
I had to check in — was he kidding me? No. He seemed serious. He had a dismissive attitude towards the other candidates in both parties. I could understand why. But my adamant stance against Sam's pronouncement was going against the unwritten, unspoken rule among my generation of family members: we do not squash, but listen to our kids' opinions even when we disagree.
It took every measure of patience I had to climb down off the tree a little and calmly remind Sam that too many people, probably people that he knows already, will be hurt by what Trump does — or instigates other people to do. I reminded him that he should be familiar with Trump's kind of demagoguery, if he's studied world history as his major suggests. Voting for Trump certainly makes his Deadhead parents recoil.
I remember my own idealism at Sam's age, and reminded myself that we created a world of shelter, safety and security that allowed kids like Nikko, Felicia and Sam the privilege to make whatever decisions they wanted — because they would not be affected by it. In raising these kids surrounded by comfort, stability and anticipated upward social mobility, perhaps what we neglected to do was involve them in the larger consequences of our choices and preferences.
People we don't see are hurt by the ramifications of our actions, our consumption and our economy. For a vast majority of us here and for the rest of the world, the choice of the U.S. President is, unfortunately, too important to decide cavalierly. People are hurt by our vote. We can see that more plainly and on an hourly basis through the Internet.
After Thanksgiving dinner, Sam and I talked about the situation in Turkey, comparing and contrasting Erdogan's stance to Putin's, and how we in the U.S. just don't understand how the Middle East rolls. We don't understand how the rest of the world rolls.
Even though I stopped pursuing our disagreement about Trump from earlier that evening, I felt quietly relieved that Sam is bright enough and thoughtful enough to consider the whole world in his own voting decisions — now and in the future. And, I am not going to be in the world long enough to watch what happens thirty to forty years from now. He will be. So will Nikko and Felicia.
But I won't be helpless or inactive. I will make my decisions too. The world is still wide enough for all of us to form the dynamic that will break or make this world. There's years to come where we'll see what kind of world we will be creating — starting this year. For all our sakes, here and abroad, I hope it's the latter. I want that feather in my cap before I go out.