Simply being aware of astrology may be more or less all you need now. So, simply take it in and roll with it. As of this writing, Uranus has just started moving away from a final trial with Pluto, and Venus has just entered Taurus. Friday, you enter the portal of a total solar eclipse, not to emerge until April 4 with a total lunar eclipse.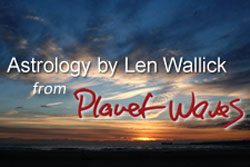 Those are just highlights, and you are aware of them. How lucky you are! Think of all the people who are unaware of the monumental astrology going on. Contemplate how billions are unconscious to all but the most obvious cycles of Sun and Moon in the sky.
Yet, most of those billions manage well enough. Does that make astrology moot? Probably not. It's very possible that most people can pick up some cosmic information in the moment, on a level other than that of conscious awareness. That information in the sky, usually corresponding to Earthly cycles and trends of which astrology is both an indicator and a part, is often more or less perceived at any given moment in intuitive and instinctual ways.
But what a difference to be consciously aware! Instead of improvising in the moment, you can appreciate how any given moment fits into your whole life. You can take in information in advance using the timeframes astrology provides. Astrology allows you to roll with every moment's unique opportunity as the residue of your conscious preparation.
One timeframe, opened in 2012, is closing. An extraordinary series of seven square aspects (separations of 90 degrees on the zodiac and in the sky), from Uranus in Aries to Pluto in Capricorn, is behind us. Nobody will see the like for a long time. Probably not children living today, and possibly not even their children will be able to take in what you have spent the last three years (more or less) rolling through.
Take it in. Roll with how you were (and are) among those aware of Earth's orientation to Uranus and Pluto. Count yourself as one who consciously correlated Earthly events in context. Let your act of knowledge be part of what you remember, and how you are remembered as the years roll on.
Another much shorter timeframe opened earlier today. Venus entered Taurus shortly before 6:15 am EST (10:15 UTC). Taurus is one of the two signs Venus rules, along with Libra.
Given that Taurus is a fixed earth sign, bright Venus as its ruler confers a natural correspondence with matter made animate — such as is the case with your living body. The more-or-less annual tour Venus takes of its Taurus domicile is an indicator to do your best to take into your body only what you can trust to make you brighter and more lively. It's also a good time to trust that whatever experience you take in will be retained in the physical center of consciousness your body represents.
Venus will remain in Taurus until April 11, and during the entire time it will continue to rise higher and higher above twilight at the end of each day, dwelling ever longer in the night sky. As weather permits, go out after sundown and look for the steady brilliance of Venus in the West. Take it in. Roll with it. Let it be part of all you now are, and all you are aware of.
Viewing the steady climb of Venus as an evening beacon will serve you well as you enter new and multiple timeframes more or less simultaneously on Friday. The first timeframe begins with a New Moon in Pisces, which will open up a month (more or less) known as a lunation — until the next New Moon in Aries on April 18.
Because the Sun and Moon will conjoin in the last degree of Pisces on Friday, the New Moon will also be more-or-less concurrent with the Vernal Equinox, which will precipitate when the Sun enters Aries hours later. Since the Aries equinox represents the beginning of a season for all of us (and the start of a new year for some of us) a longer time frame will open at essentially the same time as the Pisces lunation.
Finally, Friday's New Moon will also be a total solar eclipse. Because of this, a potentially much longer timeframe (as much as two decades) will open with the lunation, with the new season, and with the new astrological year.
That's because the lunar nodes take nearly 20 years to make a complete cycle of the 12 signs. The lunar nodes are two opposing points on the zodiac and in the sky where, more or less, the Sun and Moon must conjoin or oppose to make eclipses happen.
So take it in this week as you stand on the threshold of one era, symbolized by Uranus and Pluto in a prolonged separating square aspect, plausibly beginning its end. Take it in as another ostensible set of timeframes are only now starting to open, like a fruit, wrapped in a flower, inside of a bud.
Let your awareness record this time in your conscious correlations. Allow your consciousness to observe this time in your body. Permit your natural proficiency as a child of the universe to prevail, and trust yourself to discover somehow your reason for being here now.
In spite of all that might trouble even the most blithe spirit, astrology indicates that now is an exceptional time to be alive. Simply show that you have taken that in and are rolling with it, and history will surely and somehow be made by you in this life.
Offered In Service
Len is available for astrology readings. You can contact him at lenwallick [at] gmail [dot] com.