Mars enters Pisces at 5:20 am EST (10:20 UTC) Monday to emphasize awareness in general, but especially self-awareness. Everybody has Pisces somewhere in their personal astrology. It's probably a pretty deep place for you. With the energetic implications of Mars transiting such depth will come some exciting potentials — if you can master them.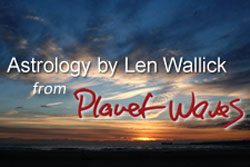 Mars, like fire, is an empowering servant but not such a trustworthy master. Hence, working with Mars as it manifests for you requires self-mastery, which logically begins with self-awareness.
Also analogous to working with fire, it's important not to fear the red planet. As Robert Hand has noted of Mars, "… there is nothing to fear from its transits, and in fact its energies are a vital part of life."
Indeed, if all you do with Mars traversing Pisces until Feb. 19 is to keep fear from running the show, you will have made a good show of yourself. Yet, you should also be aware of how a more intriguing potential is implied.
Adding intrigue to Martian vitality in Pisces will be Neptune, which has been continuously occupying Pisces for about three years now with about 11 years to go. Neptune co-rules Pisces along with Jupiter.
As Eric averred in 2012, even though Neptune is a relative newcomer (having been discovered in 1846), it is well-suited to rule Pisces and powerfully placed there. As Eric has also noted more than once, Neptune aspects can be far from exact and still be functional.
Neptune's wide "orb" of aspect combined with the predilection of Mars to express its own aspects well in advance of their being exact indicates the next thing (after no need for fear) you should be aware of. Namely, the red planet's ingress to Pisces on Monday will implicitly entail an immediate, long-lasting conjunction (or merger of energies) with Neptune.
Part of Neptune's nature is that its expressions can be right in front of you, indeed surrounding you, and yet remain hidden in plain sight. In other words, Neptune rarely functions to enhance immediate awareness. That's how it will be up to you to make up the difference, beginning with yourself.
In the weeks to come, it will be useful to pay attention to what's going on inside you. If you endeavor to look for inner patterns and strive to understand them, self-awareness will inevitably result.
Along that same line, listen to words coming out of your mouth. Read e-mails and texts carefully before you send them. Ask yourself, "Is this really me?" Such a simple precaution may help you avoid having to say "Sorry, I wasn't myself" or "That's not the person I want to be" after the fact.
Once you grasp getting a hold of yourself before the fact, you can realize the powerful and positive potential of Mars in Pisces conjoined with Neptune at the same time. Among those potentials are service and preparation. Self-awareness enhances both.
If you choose to serve somehow during the next few weeks, try not to do so impulsively. Making an effort to get straight and clear about what you are serving and the spirit in which your service is rendered will be worth your while.
Preparation, of course, can easily become procrastination — especially with foggy Neptune ruling the roost for Mars. Be clear what you are preparing for and be aware of your your energy level. If you are focused and stoked, you probably have made a good balance of Mars and Neptune. If you feel either frustrated or lost, look to make an adjustment.
There is one other positive potential to be aware of when Mars enters Pisces, as indicated by Monday's astrology. About six hours after the Martian ingress, a little asteroid with a big name — 433 Eros — will also enter Neptune's watery and mutable realm.
Besides being an alternative name for Cupid, Eros represents what many learned people consider to be the most powerful, dominant and seminal human motivation: the urge to merge.
Even though it is 'only' an asteroid, the symbolism of Eros coalescing with Mars and Neptune in Pisces is something you should be aware of. When you consider that the merger will take place over the course of one day, yet implicitly last for weeks, the potential is clearly more than just a good time.
Indicated when Mars enters Pisces on Monday is nothing less than a chance to achieve your highest potential ever as a human being.
Imagine yourself overcoming fear, but not being content to stop there. Imagine you channeling the indomitable vitality of Mars with conscious intent. Then, conceive of such courage and desire in service to the unbridled creativity of Neptune. Finally, be aware of how fearless, energetic and creative purpose could further the highest cause — the cause of love itself, through you.
That may seem like a tall order, but please, give yourself a chance. Begin by simply practicing a little self-awareness. After all, if not you, who? If not now, when? Why not be at least some of the good things you would like to see happen in the world?
Offered In Service
Len is available for astrology readings. You can contact him at lenwallick [at] gmail [dot] com.