For a beautiful and timely example of life on Earth imitating the astrology in our sky, you need not look any farther than a desert in California. That desert is called Death Valley. Most of the time the name is appropriate for an arid and desolate place where simply going for a walk can be lethal.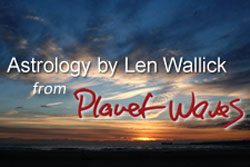 Right now as you read this, however, Death Valley is evincing a rare phenomenon some call a "super bloom." For the first time since 2005, circumstances have combined to awaken seeds long dormant, covering the desert with a blanket of flowers.
Death Valley's super bloom is taking place just as you are entering what has been previously (in this space) been called an "eclipse zone." This particular eclipse zone begins with today's New Moon and total solar eclipse in Pisces, and ends with the Libra Full Moon and lunar eclipse on March 23.
The super bloom in Death Valley is an explicit and tangible phenomenon. Uncounted flowers have bloomed, which will then yield the seeds of another such event sometime in the future. Implicitly speaking, the astrology at this time suggests the same potential might exist in your own life. Much as with seeds in the desert, potential needs the right combination of circumstances to sprout, flower and produce the seeds of renewal. Since it is your life, you must at least be the one to get things started.
The first circumstance necessary to produce seeds of renewal in your life is awareness — that's where astrology comes in. The Pisces New Moon and solar eclipse taking place today (or tomorrow, depending on your time zone) is happening while the Moon is very near the point of its orbit where it is closest to Earth. That's why some call this a "super" New Moon. Because interpretations of astrology are based on observation and correlation, any astrologer would tell you that a rare super bloom in Death Valley taking place at the same time with a super New Moon is not coincidental, but indicative of circumstances everywhere.
Combine the correlation of a super bloom and a super New Moon with the fact that every New Moon represents the end of an old monthly cycle and the beginning of a new one, and the correspondence is reinforced. If you consider another (and longer) cycle that will both end and begin again before you emerge from this particular eclipse zone, the image of seeding renewal is furthered.
For the first time in nearly a decade, this particular eclipse zone will contain within it (like a seed long dormant) the end of an old yearly cycle and the beginning of a new one called the Vernal Equinox. On March 19 (or March 20, again depending on where you live) the Sun will enter Aries to begin a new astrological year. At the same time, a new season will initiate on Earth. For those of us north of the equator, it will be the first day of spring. For those of you down under, it will be the first day of autumn.
You have a new lunar cycle, a new season, a new astrological year and the implied beginning of even longer cycles combining with a seldom-seen spectacle of nature to help make you aware. Assuming that you now have that awareness, you might ask, "What next?"
What follows awareness, if anything is to become of it, must necessarily be action. In this particular case, the symbol of seeds being renewed provides you with some clues as to what sorts of action would be appropriate.
In order to sprout and bloom, any seed must receive and take in a combination of circumstances. There must be rain so that the dry seed can take in moisture, swell and crack open. Sunlight is then required to provide the energy necessary for growth. Finally, there must be grounding and nourishment from the soil so growth can be sustained long enough to produce the next cycle of seeds.
Should it be your intent to follow the example of the seeds in Death Valley, the implication is that you should be taking in a few things yourself. Beyond breathing deeply, drinking plenty of water and eating nourishing food, what you take in to foment the seeds of your own renewal at this time would probably include some information and support. For those additional requirements, you might endeavor to look beyond what you yourself can provide.
Implicitly, you should look to further your education in some way. Additionally, you might seek to expand your consciousness.
How you do that would depend both on what you are interested in and what your community has to offer. It could be as simple as a trip to your local library, or as complex as enrolling for some sort of formal schooling.
You could even travel outside of your community. You might consider leaving the familiarity of where you live to engage with, and learn from, the life circumstances of others. In all probability, you need not go far (although that possibility exists) in order to experience different food being served, unfamiliar languages being spoken, and other ways of both believing and living.
So use your imagination. Follow your curiosity. Make an effort, however small, to emerge from who and what you are, even if you are content with your circumstances. Because if there is anything to astrology, it's time for you start something new over the next two weeks or so. More to the point, if you have anything in common with those flowers in Death Valley (which you do), what you start will demonstrate that you and your life have a point at this time: to somehow sprout, grow, bloom and produce the seeds of renewal once again. It's time for what has been dormant within you to come out.
Offered In Service