Today's Oracle takes us to the Aries monthly for August 15, 2005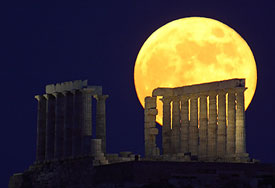 You seem to want to take a risk you won't let yourself dare. There is a new influence in your life which is working to slow you down and make sure your thought process is more methodical. This is not designed as a cosmic hindrance or any other kind. Rather you've finally got a chance to see the benefits of more carefully considered decisions and what I like to call calculated risks. There is a way of taking a chance that involves understanding the implications — and that's precisely what you've got an opportunity to do now.
This is an ancient horoscope and by some miracle it is still relevant today. Experience the astrology as it happens, written by me weekly and twice monthly, plus your Moonshine horoscope by Len Wallick. Here is how to sign up — and what you get.