Today's Oracle takes us to the Taurus monthly for September 28, 2010.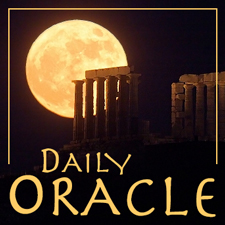 The presence of another person in your life may feel so strong that you're wondering whether contact on any kind of equal terms is possible. Yet there is no contact with another without contact with yourself. The deeper you go into your own sense of presence in your world, the deeper you'll delve into your experiences of others. Your solar chart suggests that you've been keeping secrets from yourself. These secrets involve your relationship history, and in particular, what your values about deep connection are and where they came from. More specifically, Venus retrograde in Scorpio suggests that you're deeply involved in a process of understanding your sexuality and how it manifests in your relationships. This is as much a quest for understanding the past and its influences as it is about letting go of out-of-date ideas and emotional responses — which in part means letting go of your attachment to them. This is not as difficult as you may think, particularly when you assess the cost of the attachments and get a feeling for the benefits that can come when you take your life into your own hands. I would offer these queries. What is the meaning that you put on sex, and how did it get there? What is the value you ascribe to it, and has it actually demonstrated that value? And, what did you leave behind in the distant past that you want dearly to retrieve?
---
The Saturn-Pluto conjunction is separating, but still strongly influencing our experience. While this event will happen two or three times in the lives of most people, this particular instance is a moment of convergence and reckoning for the world and for us as individuals.
Eric has completed recording RESPECT, the 2020-2021 Planet Waves annual readings, to cover the momentous astrology of the coming year-plus. You can read more about the project, and order the readings for instant access, here.