Today's Oracle takes us to the Pisces monthly for October 26, 2010.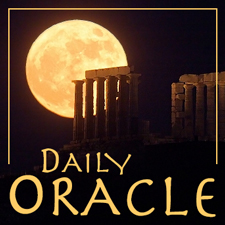 In all likelihood, there was a time in your life when the sex was better. You may be remembering that lately; the memories may be vivid and beautiful. (Indulge yourself.) There was a time when relationships were more liberated, or more experimental. Or there was a time when you actively wanted those qualities in your contacts with others. What changed? Well, let's see, you're older now. That might account for your desire to have clearer experiences, which is connected to a desire to make better choices. Being older typically equates to a more firm idea of who you are, and that can lead anyone to narrow their concept of what they want — potentially (but not always) leading to deeper and more fulfilling situations. Often people price themselves out of the market, demanding so much assurance that an authentic experiment or encounter with the unknown verges on impossible. In these days and years of your life, you're in one of the most radical processes of self-reinvention that you've ever been through. You've reinvented yourself in the past, but never so consciously and with such focus as you're doing today — and that requires an open mind, and being open to experience. It means being open to different kinds of agreements with people than our culture sanctions, including situations that are open-ended and not pointed at a distinct goal — except for one thing: self-awareness, which might even become mutual awareness.
---
The Saturn-Pluto conjunction is separating, but still strongly influencing our experience. While this event will happen two or three times in the lives of most people, this particular instance is a moment of convergence and reckoning for the world and for us as individuals.
Eric has completed recording RESPECT, the 2020-2021 Planet Waves annual readings, to cover the momentous astrology of the coming year-plus. You can read more about the project, and order the readings for instant access, here.