Today's Oracle takes us to the Taurus weekly for May 14, 2010.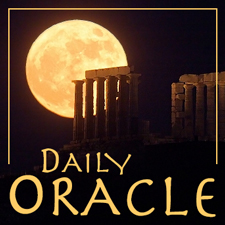 There's only so far you can drag yourself backwards before you decide it's time to proceed in the direction you want. You've struggled with a tendency to attempt serving two masters: one being yourself, and the other being some past influence that is allegedly dictating who you should be and why you should be that way. Though it seems like 'the stronger voice will win', in truth the voice you give the most energy to will win. As long as you try to divide your loyalty, you will divide your character and feel paralyzed. I suggest you focus on listening with precision to the voice you want to hear, and making that decision on the basis of how you feel. How will you know that you're hearing a past voice? Simple: a familiar sense of frustration. And a more loving voice? Simple: a sense of your potential opening up.
---
New in the Special Readings Series
Magnum Opus on Eclipses, Now Through Late 2020
Eric's new 90-minute discussion of all things related to eclipses, in any sign — with a focus on Cancer and Capricorn eclipses, from the current pair through 2020 — is available now for instant access. Part audio reading, part astrology class, it offers you a lot of help processing the solar eclipse on July 2 and the lunar eclipse on July 16, and features original music. Hear it as part of the 2019-2020 Astrology Studio for Cancer, or purchase the Eclipses Reading separately for only $33.