Today's Oracle takes us to the Aries weekly for March 28, 2003.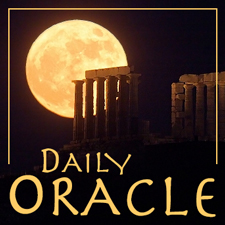 This is the test of whether you can act from inside your power, or will you once again stand outside of it, with it right there next to you. The chances are pretty good that you're going to move from your deepest core, however. I say that because to the same extent that you are now being compelled to take a particular action in the outer world, you are being called to a whole new region inside yourself that is so compelling as to be completely beyond your capacity to resist. You are very fortunate to have this balance right now, because it's really the essence of living well. By that, I mean living in such a way that who you are inside finds an expression in your actions, and that what you do supports and gives structure to who you are inside. I can tell you this: the current moment of your development is likely to be a far more significant one than you've given it credit for.
---
New in the Special Readings Series
Magnum Opus on Eclipses, Now Through Late 2020
Eric's new 90-minute discussion of all things related to eclipses, in any sign — with a focus on Cancer and Capricorn eclipses, from the current pair through 2020 — is available now for instant access. Part audio reading, part astrology class, it offers you a lot of help processing the solar eclipse on July 2 and the lunar eclipse on July 16, and features original music. Hear it as part of the 2019-2020 Astrology Studio for Cancer, or purchase the Eclipses Reading separately for only $33.