Today's Oracle takes us to the Sagittarius weekly for June 19, 2009.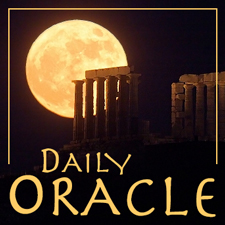 You are being called upon to give yourself totally not to any one relationship, but to every relationship. One of the big problems on our planet is that we live in a hierarchy of love. Some people are 'more important' than other people, and we can act in very strange ways because of this. The outcomes of this situation, however, prove the point that we really don't know what role people have, and it's fair to doubt that we have any discernment at all. Monday's New Moon is calling on you to suspend all discernment and make sure that you are offering what you can to every situation you are in. I cannot tell you why, or how; I can only tell you what I am reading in the planets. You are a born humanitarian and you know it. This is not merely a dream.
---
The Saturn-Pluto conjunction is upon us, just weeks away. While this event will happen two or three times in the lives of most people, this particular event is a moment of convergence and reckoning for the world and for us as individuals.
I'm underway recording RESPECT, the 2020-2021 Planet Waves annual readings, to cover the momentous astrology of the coming year-plus. You can read more about the project, and pre-order the readings, here.