Today's Oracle takes us to the Virgo weekly for September 12, 2016.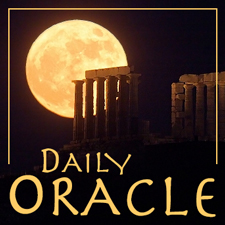 Your world is still vibrating with last week's total solar eclipse in your sign. It's now undeniable that you're fully involved in a process of not just transformation but of claiming some deep aspect of who you are. Here is something to consider, while you're on the way to doing that, which is the source of your anger: The most toxic anger is what a person takes out on themselves, often in the form of guilt. Yet there are other manifestations, and I suggest you watch them all. It's possible you're figuring out that someone has kept you in the dark about an important matter. You might have some idea that you have to cool down before you assert your opinion or make a decision. However, I would say that you need to use your points of leverage, and you have one coming this week. Just bear in mind there are some old issues that are coming up, having nothing directly to do with your current situation. Be clear with yourself about that.
---
It is difficult to feel good these days; it's challenging to focus on your growth and self-care, or even to relax. We are pulled out of ourselves constantly, and often distracted from our core purposes. IN THESE TIMES, the Planet Waves autumn reading, will help.
CURRENTLY AVAILABLE FOR PRE-ORDER