Today's Oracle takes us to the Capricorn weekly for May 30, 2016.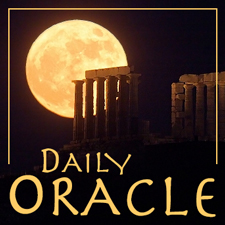 Last week, The Onion, a satirical website worth checking out, published an article about a space probe crashing into the edge of the universe. The joke, of course, is that the universe doesn't have an end or a wall or a cliff that a thing can bang into, or fall off of. As you seek the deeper truth of yourself, it will be helpful to recognize that you don't have such an edge either — though you might feel as if you do. You'll discover yourself as deeply as you want to go. You might believe there is some limit that you must not exceed, some depth that's too dangerous to fathom. Most people will obey their fear and stop long before they get anywhere near there. I would encourage you to keep going: to keep pushing your inner limits, and most of all, to experiment being evermore truthful about who you are to your friends. This, and little else, will give you the confidence you seek.
---
The Saturn-Pluto conjunction is separating, but still strongly influencing our experience. While this event will happen two or three times in the lives of most people, this particular instance is a moment of convergence and reckoning for the world and for us as individuals.
Eric has completed recording RESPECT, the 2020-2021 Planet Waves annual readings, to cover the momentous astrology of the coming year-plus. You can read more about the project, and order the readings for instant access, here.