Today's Oracle takes us to the Aries monthly for August 19, 2008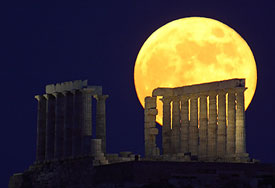 How idealistic are your ideals? You are about to find out. You may discover that you've merely been dreaming all along; or you may decide you possess a vision that you simply must bring into the world even if it's the last thing you do. In a sense if you act on your dream, it will, rather, be the first thing you do. You're unlikely to do it alone: this is an idea that resonates with many people, though they may not be the ones you know today.
This is an ancient horoscope and by some miracle it is still relevant today. Experience the astrology as it happens, written by me weekly and twice monthly, plus your Moonshine horoscope by Len Wallick. Here is how to sign up — and what you get.