Today's Oracle takes us to the Cancer monthly for April 1, 2004.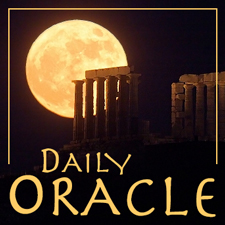 Career developments proceeding on that annoying start, stop and renegotiate basis are actually the most promising, though time will tell. It would seem there's so much momentum to these developments that nobody can stop them, not even you. You are noticeable, and people have taken notice. You have succeeded in reaching people — more people than you think. And you've done the most vital thing anyone can do in their professional life, which is set clear goals and take solid initiative. You have removed a few annoying obstacles to your success as well, and become a star on your own team. Now you get to do what you do second best: persist; and with what you do very best, which is offer your love of the world to the world.
---
The Saturn-Pluto conjunction is separating, but still strongly influencing our experience. While this event will happen two or three times in the lives of most people, this particular instance is a moment of convergence and reckoning for the world and for us as individuals.
Eric has completed recording RESPECT, the 2020-2021 Planet Waves annual readings, to cover the momentous astrology of the coming year-plus. You can read more about the project, and order the readings for instant access, here.