Today's Oracle takes us to the Capricorn weekly for July 16, 1999.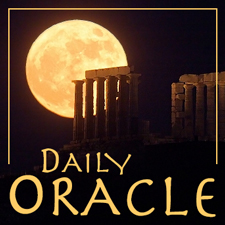 You are subject to being challenged, and that does not mean you are wrong. You would, though, be in a far stronger position if you challenged yourself, and decided there may indeed be new solutions to certain problems that you had not considered possible, much less likely. I recommend this highly if you are interested in taking a leadership role, or maintaining your leadership role. This is a fine time to admit that certain things about the past need to be adjusted, and declare it a good time to turn a corner. Almost inevitably, this will lead to much better circumstances.
---
New in the Special Readings Series
Magnum Opus on Eclipses, Now Through Late 2020
Eric's new 90-minute discussion of all things related to eclipses, in any sign — with a focus on Cancer and Capricorn eclipses, from the current pair through 2020 — is available now for instant access. Part audio reading, part astrology class, it offers you a lot of help processing the solar eclipse on July 2 and the lunar eclipse on July 16, and features original music. Hear it as part of the 2019-2020 Astrology Studio for Cancer, or purchase the Eclipses Reading separately for only $33.