Today's Oracle takes us to the Pisces weekly for July 22, 2011.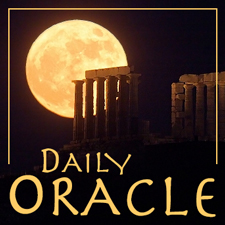 In our world, we must come to terms with the conflation of sexual desire and violence. We don't like to think of it this way, but there is a relationship between the two, it has many expressions, and we all experience them in one way or another. There's an element to your astrology this week that reminds me of a drain of violent impulses from your emotional body. The chart feels as if pressure is being released from your psyche, and one way that can express itself is the healing of dualism. Part of what pushes sexual feelings into a violent dimension, and indeed all of human emotion, is the perception of difference, which extends one more layer into duality — an us versus them feeling, or me versus the world. The challenge of your current astrology is about relaxing and experiencing some element of the common ground we all share, from moment to moment. This will offer you a whole new way of exploring pleasure and desire.
---
The Saturn-Pluto conjunction is separating, but still strongly influencing our experience. While this event will happen two or three times in the lives of most people, this particular instance is a moment of convergence and reckoning for the world and for us as individuals.
Eric has completed recording RESPECT, the 2020-2021 Planet Waves annual readings, to cover the momentous astrology of the coming year-plus. You can read more about the project, and order the readings for instant access, here.