Today's Oracle takes us to the Gemini weekly for March 14, 2008.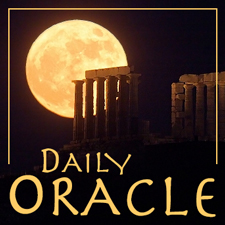 You may not feel like playing politics; more likely, you feel like playing hardball. You need to play a little of both. Be careful that you don't suck up to the self-interest of others, however. You need to be making the case for collective interest, and to state plainly that adaptability is a virtue. It may be difficult to get people around you to agree on a strategy; start with one of your own, work it from the inside out, then look around and see who comes along with the project. Be honest about this — right now both you, the world and your personal world need the benefits of cooperation. You have obligations to people, and people have obligations to you. We may not like the concept of "obligations," but think of them as meaningful commitments that are for everyone's mutual benefit. This is where playing politics comes in. You need to become completely convincing on the point that what is good for everyone is good for everyone.
---
The Saturn-Pluto conjunction is separating, but still strongly influencing our experience. While this event will happen two or three times in the lives of most people, this particular instance is a moment of convergence and reckoning for the world and for us as individuals.
Eric has completed recording RESPECT, the 2020-2021 Planet Waves annual readings, to cover the momentous astrology of the coming year-plus. You can read more about the project, and order the readings for instant access, here.