Today's Oracle takes us to the Capricorn monthly for August 1, 2002.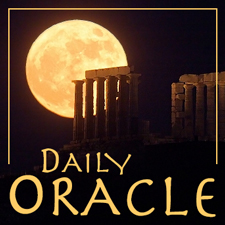 All that you have coming to you may be cloaked in the single thought that you're about to lose something. So if you sense the possibility of loss, such as loss of control, or a change in a situation, or of being over-powered, such may be precisely the illusion you need to look through and walk past. We understand that breaking all the rules may not be in your first nature, and that discretion is allegedly the better part of valor. Just remember, there are at least two parts. As was the case at this time in 1999, an erotic metaphor for life may serve the discussion well. One cannot really explain orgasm, or relate the experience to another in its full truth. All we can do is feel, and feel, and feel, and then let go into the unknown.
---
The Saturn-Pluto conjunction is upon us, just weeks away. While this event will happen two or three times in the lives of most people, this particular event is a moment of convergence and reckoning for the world and for us as individuals.
I'm underway recording RESPECT, the 2020-2021 Planet Waves annual readings, to cover the momentous astrology of the coming year-plus. You can read more about the project, and pre-order the readings, here.