Today's Oracle takes us to the Virgo monthly for May 25, 2010.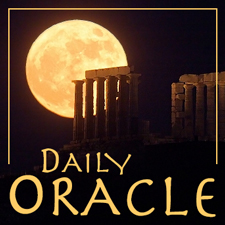 Relationships either help set us free to be who we are, or they limit who we are. This is the choice we have. Generally, every relationship is an agreement to live one way or the other, until we remember that we only have one relationship: self to other. The decision you're now making involves reaching from your core and seeing the continuity of every encounter that you have: longterm, short-term, 'sexual', 'platonic', committed, casual, or whatever. At the core of that continuity is your understanding that relationship is an agreement to be free or to be a slave; to give yourself, or to be taken; to exchange, or to take advantage of. Our society is not as clueless about this as it was, say, even 50 years ago. Yet the marriage contract, society's model of relationship, has not fundamentally changed in that time, and there are many movements to make it more restrictive, not less. You, however, can no longer be defined, or limited, by these kinds of unquestioned, prefab contracts. Your Self must have the freedom to explore, to expand, and to individuate in every encounter. It is true that you have chosen relationships as your own primary method of getting to know yourself, so withdrawing is not an option — and given the incredible potential of your human encounters, there seems little point in that. Indeed, current aspects are likely to represent the actual moment when you're drawn out of your shell, into experiencing the true potential of love.
---
The Saturn-Pluto conjunction is separating, but still strongly influencing our experience. While this event will happen two or three times in the lives of most people, this particular instance is a moment of convergence and reckoning for the world and for us as individuals.
Eric has completed recording RESPECT, the 2020-2021 Planet Waves annual readings, to cover the momentous astrology of the coming year-plus. You can read more about the project, and order the readings for instant access, here.