Today's Oracle takes us to the Leo weekly for June 27, 2016.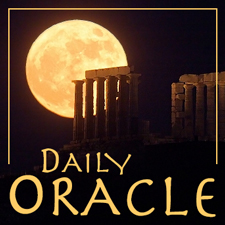 You don't need to engage in any debate about morals, especially sexual. In sex, there is just one necessary line of appropriateness, which is of-age consent. Once that's been taken care of, you are entitled to be who you are, to feel what you feel, and to do what you want to do. So is everyone else. What is so often disguised as morality is like a crepe-paper Halloween costume pulled over a deeper reality: some people want everyone else to have less fun than they do. The very things to avoid are gossip and scandal in any form. Simply do not participate. Walk away or end the discussion. You are the one and only person who must make up your own mind about what is right or wrong for you and for your relationships. This takes less courage than it may seem to at first. You merely need to call things what they are, and remember that nobody is your judge or jury.
---
My readings offer a place of refuge, an opportunity to suspend self-judgment, and my careful reading of the charts. I offer you reasons to be motivated, and strategies for handling the strange complexity of society at this time. To this work, I bring all of what I have learned as a journalist, editor, astrologer, spiritual student and man of the world; and I offer it to you for an affordable price. Read more here.
Now available for instant access!