Today's Oracle takes us to the Libra weekly for April 1, 2005.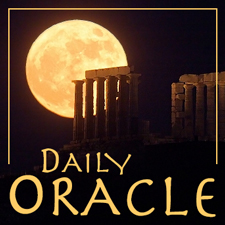 This is likely to be an astonishing phase of your personal history and to be challenging all your old ideas about who you are and who you are to others. You have to put it mildly underestimated your value. You're also a tough customer and the standards you set for people to prove that they care about you are entirely unreasonable. Still that being said you may notice that people are doing exactly what you ask and what you need. The question is whether you will be open enough to receive what's being offered. Trust me: it is rare and beautiful and one of a kind.
---
My autumn readings, called In These Times, offer a place of refuge, an opportunity to suspend self-judgment, and my careful reading of the charts. I offer you reasons to be motivated, and strategies for handling the strange complexity of society at this time. To this work, I bring all of what I have learned as a journalist, editor, astrologer, spiritual student and man of the world; and I offer it to you for an affordable price. Read more here.